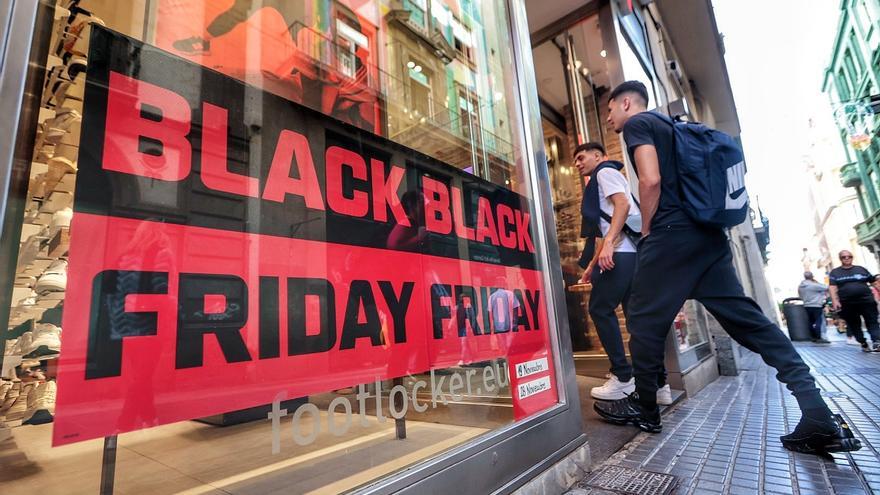 "It's okay; I see a lot of people and some offers, although nothing surprising. The previous sentence could well summarize what was lived yesterday in the Metropolitan Area with Black Friday. Both during the morning and in the afternoon there was a lot of movement and some peaks of a lot of activity in the shopping centers, but far from the big crowds. Above all, the deconcentration of the offers typical of this date –the last Friday of November– throughout the week and also the strength of purchases through the Internet are two possible factors that help to understand the situation. Be that as it may, the go-ahead for Christmas consumption has already been given. The initial statement is made by Luis de la Rosa, a buyer who was touring the shopping center area of ​​Santa Cruz early yesterday afternoon. "I am from Las Palmas, I work between there and here, and I took advantage of the time that I now had free to go for a walk," he said. «But it is not that I see offers to the beast either; there is something, but in certain products. At least I see it that way, "he said in the middle of his tour of different establishments in Meridiano and Nivaria. "Above all I have been looking at electronics and sports products," he said, with a balance up to that moment of some purchased socks.
The activity higher than that of any other day of these dates was perceived from the morning and also in La Laguna. After 11:00 a.m., a certain bustle was perceived in the hull. Advertising about Black Friday in most businesses, regardless of their size. One of the big ones, Wehbe, advertised 40% on its exterior between November 21 and December 4. Other smaller establishments were not far behind, from a nearby optician's shop, a perfumery, an aloe vera product store or even a pharmacy. Everyone was betting on Black Friday. The biggest discounts reached 70%.
american roots
The origins of this appointment with consumption are North American. Specifically, it takes place one day after the celebration in the United States of Thanksgiving Day or, what is the same, the Friday that follows the fourth Thursday of November. There are several explanations for its name, but the most consolidated indicates that the black thing is due to the fact that on this day the merchants went from red numbers to black numbers with the surplus generated by sales. It was a few years ago when they arrived in the Archipelago; first, in a somewhat fearful way, and then with more force.
70%
The highest discounts are at 70%.
And how do you see it? «Well, more or less well. I came to see if things were cheaper and to already have some gifts sorted out, and I bought mostly clothes and a couple of details," said Carmen, a neighbor of the Polígono Padre Anchieta, while showing the bags. "I also came to Black Friday last year. On that occasion it was because a friend told me several times that there were going to be cheaper prices, and so I ended up coming. And it is true that there are clothes and other products with discounts, but one must also be careful because they may have increased. The best thing is to have more or less controlled prices so as not to buy as discounted what really is not, "he said.
Another testimony in old Aguere was that of José Pérez. «It is true that it is Black Friday, but I did not come for that, but because I need pants and a shirt and today I have the day off. That is to say, that he would have come even if there were no sales. Finding the right discount for what you want is difficult, so I don't usually take advantage of these sales times too much. I try to buy what I need and that the price is not excessive and that's it ». When asked how the Black Friday prices had seemed to him, he spoke in similar terms: «I have hardly looked at them, really. Yes, I have seen some posters of 40%, 50%…, but I have not stopped much ».
The electronics stores on Calle Herradores, as well as several sports stores on the same street, were among the busiest. And there were Tamara and Jesús Manuel. «We have bought something, but I would have liked the prices to be lower. It seems to me that everything is very expensive. Then there are offers on some things, but the least attractive, or at least for me, "said the first, while the second corroborated it. "Is it worth coming specifically today and queuing up to save ten or fifteen euros?" he posed as a rhetorical question.
"I saved 40 euros"
María Teresa showed greater enthusiasm. In this case, she was in Santa Cruz, in the square next to El Corte Inglés, and she was satisfied for having obtained a cheaper vacuum cleaner. "I saved 40 euros," she celebrated. A 67-year-old resident of Los Gladiolos and accompanied by her daughter, they had decided to spend the last hours of the morning and the beginning of the afternoon shopping. «I cannot walk much because my legs hurt, but we are going little by little; We already had a cortado, in a while we had lunch … and for Los Gladiolos again », she said about her plan for this Friday. "Let's see if I can find some clothes for my grandchildren, although I think that there are not so many sales on clothes at this time," he said. «For me, even if you see a good offer, you don't save that much either. It may be that this offer is not such, but it gives you the feeling because you do not know the product. This is fine for those who need something very specific and know the prices perfectly and are lucky that they put a discount there. That or like us, who come more to take a walk than to buy anything, although my mother ends up getting excited and buying, "joked her daughter.
7 days
Shops offer a week, and even more, of discounts
Inside El Corte Inglés something like that typical bustle of mid-December was perceived. Something similar happened in another of the fixtures these days for many buyers: the electronic sales giant MediaMarkt. The mobile phone area was one of the busiest. Some posters of the German multinational used a slogan that well synthesizes that Black Friday is no longer a thing of a day: «Lets go! Black weeks».
Outside, Jorge Delgado did not seem very happy with the balance of his journey in search of a bargain. «I have not found anything of what I wanted. A disaster!" he said. «I have been through the sports and tennis stores: El Corte Inglés, those of Meridiano, Base, on Castillo street… and nothing that has convinced me at all," he stated halfway between joke and anger. «I will now go to the Alcampo area and, if I no longer find anything, I give up. Sometimes, when you are sure about the size, it is almost best to order it online. Every day it surprises me less that online purchases are increasing », he considered.