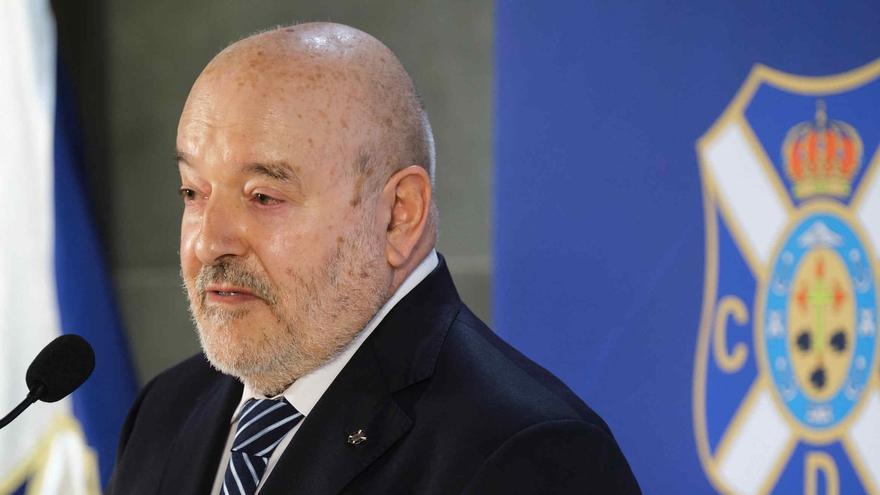 On the silence of Álvaro Jiménez to the electricity of Miguel Concepción. The 'give joy to your body Macarena' from the main chicharrero executive. The president of CD Tenerife wants to march in what will be his last derby – he announced that he will leave office on December 15 -. The president, at the inauguration ceremony of the sports city of the chicharrero club, endowed with an investment of twelve millionattacked the distribution of tickets by the yellow board of directors.
The Gran Canaria club announced last Monday that it will deliver some 690 seats to Tenerife, a figure that for Concepción is low. The capacity of the Siete Palmas venue is 32,000 seats and the UD has 18,000 subscribers. "If we analyze it from proportionality, it doesn't seem fair to me. They could give us more tickets but from Las Palmas they limit themselves to the phrase 'those you can give me, because I correspond to them,' Concepción determined. "We have to shut up and conform," she highlights as a philosophy.
700 fans
On June 4, in the second leg of the semifinal playoff for promotion to First Division (1-2), 700 CD Tenerife fans attended the Siete Palmas Parthenon. They were located, as has been the custom in recent campaigns, between the Curva and Sur sectors. On this occasion, facing the match of maximum regional rivalry, which is played on Saturday, November 26 and at 9:00 p.m. (#Vamos), the group of CD Tenerife supporters will be located between Naciente and Sur.
Concepción was questioned if he considered that this change was due to an intention to silence the people of Tenerife -as they were closer to the Ultra Naciente animation group, the most energetic in Gran Canaria-. This approach is born from the fantasy of the editors of Santa Cruz de Tenerife. The Gran Canaria club, through the testimony of the general director Patricio Viñayo, already clarified that it was for security reasons. "If the idea is to silence a thousand voices trying to bring them closer to another of the most lively stands…The clubs are the ones who determine the locations, but it doesn't seem like the best thing to me."