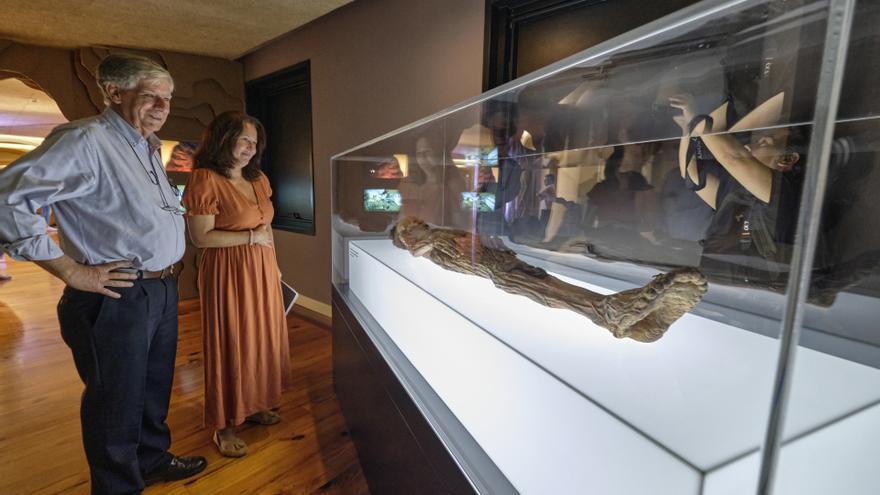 The Museum of Nature and Archeology (MUNA) has opened a new module to exhibit a replica of the Guanche mummy found in the National Archaeological Museum in Madrid.
The island councilor for Museums, Concepción Rivero, and the director of the Archaeological Museum of Tenerife and the Canarian Institute of Bioarchaeology, Conrado Rodríguez-Maffiotte, have presented this new space.
Concepción Rivero explained that the replicated mummy is one of the five Guanche mummies that were housed in the National Museum of Anthropology in Madrid in the 1970s and that it was transferred to the National Archaeological Museum when the others returned to Tenerife.
He added that since then the council Has made six petitions to get her back which were rejected for technical and conservation reasons and the last one, completed in 2021, is still being processed.
Likewise, Rivero highlighted the great value of this mummy and assured that from his area they are working to recover it but, until then, "this reliable reproduction may provide additional value to the Museum of Nature and Archeology."
The director of the Archaeological Museum of Tenerife and the Canarian Institute of Bioarchaeology wanted to remind that mummies have already been brought from other countries in the past and they have arrived in good condition, and assured that the technical reasons for transfer "cannot be a problem today ".
"This mummy specimen is the best preserved, its value is endorsed by many reports and it is possible that for this reason they do not want to part with it," said Rodríguez-Maffiotte.
The new module where this piece is exhibited is located next to the Guanche Funerary World space and has a different museographic presentation where it is indicated that it is a replica so that visitors do not confuse it with the original mummies.
The piece in the National Archaeological Museum comes from the Barranco de Erques, in Arico, and it is believed that it belonged to the great sepulchral cave in which hundreds of them were found in the last third of the 18th century.
It is characterized by having a particular archaeological value, since it perfectly reflects the Guanche mummification method, as well as the physical characteristics of these aborigines.
Given the importance of this mummy and the impossibility of its transfer to Tenerife, this replica is completely faithful to the original piece with the aim that visitors to the Tenerife museum can appreciate it in this temporary exhibition.
Next to it, different videos about the aboriginal world are exhibited, as well as a panel that takes a tour of the different countries that house samples of Guanche mummies, such as Germany, the United Kingdom or Canada.