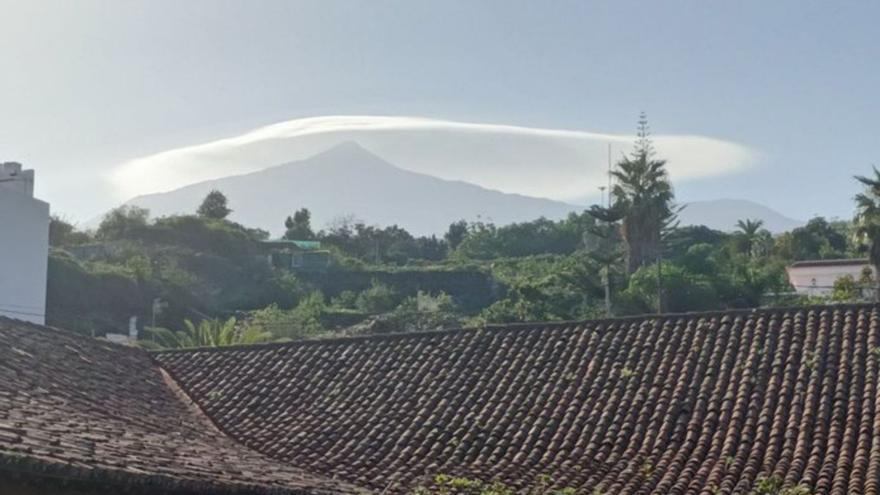 The popular saying goes that "when Teide has a touch, a girl picks up the clothes". Yesterday it was heard again at dawn with the guitar on the peak of Teide. Behind this saying there is a great logic, which has to do with the formation of these cloud hats that very occasionally appear on the highest mountain in Spain. And it is that the climatic phenomena that produce them announce winds and rains.
Teide woke up yesterday with a huge hat of clouds that, due to its spectacular size, was photographed by many people from different parts of the island. A user on Twitter, @Fernandomart32, went so far as to say that "it is not a a pamela and the big ones ». The extension of the cloud that covered Mount Teide forced many to remain open-mouthed and take a snapshot with their mobile phones of this wonderful spectacle of nature that, in addition, was covering the highest peak in Spain for several hours.
Despite the fact that this phenomenon portends downpours, rains and weather instability, the truth is that no precipitation is expected for the next few days, rather there is a forecast of increased temperatures until next weekend. These clouds belong to the lenticular altocumulus family. These clouds are formed precisely by the presence of humidity and wind at those levels and for this reason it can be an indication that unstable weather is approaching, although this is not always the case.
Two of the images of the spectacular Teide hat that appeared yesterday on social networks.