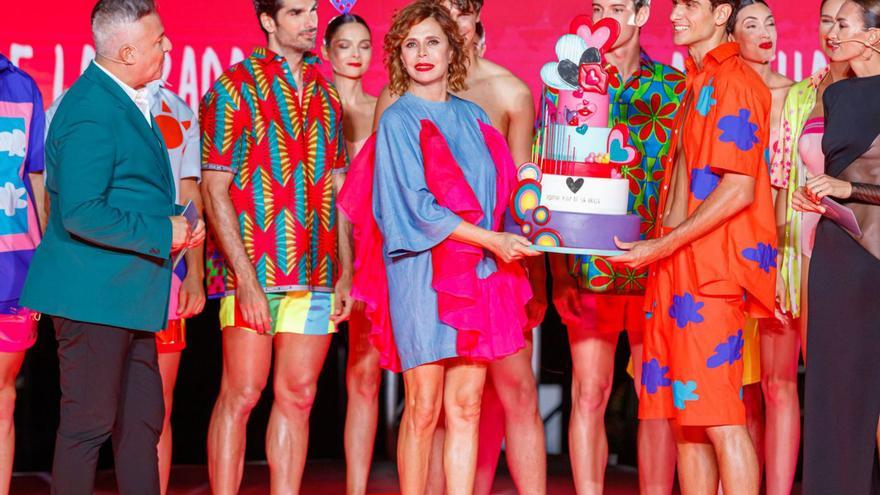 Yesterday, the Ananas Wear brand received the award for the most original and commercial collection from the Tenerife Moda firms during the closing day of the Tenerife Fashion Beach Costa Adeje, a day in which the event held its great swimwear fashion catwalk in a show that brought together hundreds of people on the Duque Norte beach in the southern municipality. With the designer Ágatha Ruiz de la Prada –exceptionally invited to this Tenerife Fashion Beach– as a spectator, Ananas Wear, with the designer Javier Aguilar, won an award that has special meaning because it is the first time it has been given. The spring-summer collection of the firm attached to the Tenerife Moda program, baptized as Sukha, has color as the protagonist. The collection is inspired by Tenerife, for which the brand is committed to reflecting the vegetation, beaches and sand of the Island, especially with the intense colors of the sea and wildlife.
Ananas Wear was accompanied on the catwalk by the brand Handcrafted, also from Tenerife Moda, which inspires its accessories with a positive and strong attitude, with many nods to the seventies. The designer Gisela Castillo has opted for XL earrings, showy and strong.
With the initiative of the Cabildo de Tenerife and the Adeje City Council and the collaboration of the Canary Islands Governmentthe catwalk had ten participating firms, which presented their beach and pool collections supported by five brands specializing in accessories, and all committed to defending the oceans.
The brands attached to the Tenerife Moda program – Ola Olita, Noemí Felipe, Seco-Seco, Arena Negra, Lava, Ananas Wear and MasquePuntas, complemented in their outfits by Son Gómez, Hubara Design, Little Pretty, My Sweet Alpargatas and Handcrafted, respectively, as well as the guest firms Suhárz, from the Gran Canaria Moda Cálida program, and Serra, from Isla Bonita Moda (La Palma)– were in charge of presenting their collections on the big catwalk, whose golden brooch was provided by the international firm Ágatha Ruiz de la Prada, luxury guest who shows the relevance acquired by the Tenerife Fashion Beach.