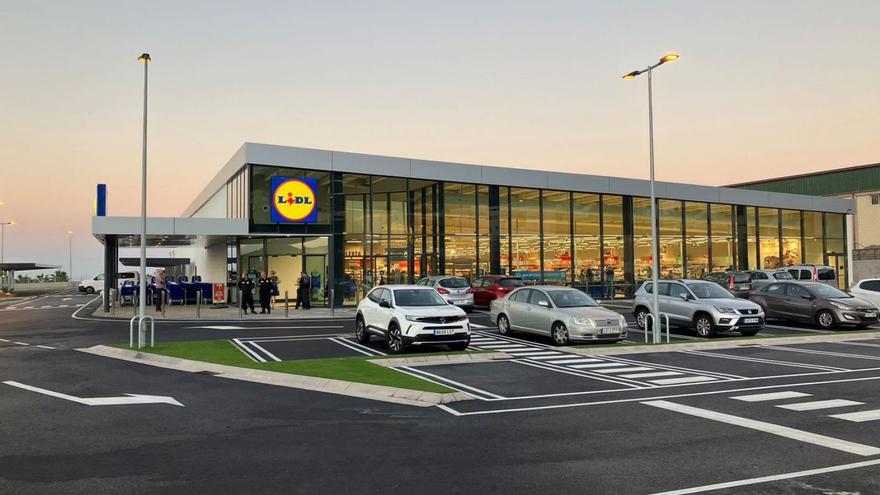 Lidl continues to take steps forward objective to continue growing sustainably in the Canary Islands with the inauguration, yesterday, of its second store in Adeje (Charfa Street, 30). The supermarket chain invested 8.3 million euros in the construction and equipment of this new point of sale, whose start-up entails the creation of up to 42 direct jobs. In its commitment to generating local wealth, the company entrusted the execution of this project to several companies in the area.
With 1,700 square meters of sales room, where the adejeros will find a wide variety of fresh products (fruit and vegetables, meat and fish or freshly baked bread and pastries) and refrigerator, packaged dry, beverages, cosmetics, personal hygiene, cleaning and bazaar items. An assortment in which regional references (such as fruit and vegetables, dairy products or wines) are becoming increasingly important.
With a business hours from 8:00 a.m. to 10:00 p.m., Monday to Sunday, the new Lidl store in Adeje has 120 parking spaces.
Built following strict sustainability standards, among the multiple energy efficiency measures that it incorporates, 540 square meters of photovoltaic panels, recharging points for electric vehicles, low-consumption refrigeration and LED lighting stand out.
Within the framework of its ambitious expansion plan in the Archipelago and beyond this latest opening in Adeje, Lidl opened another five establishments in the Islands from June to September: three net openings (in Icod de los Vinos, Tacoronte and Telde) and two renovations (in Granadilla de Abona and Adeje, the latter after expanding and modernizing the first store of the supermarket chain in the town) after an investment of nearly 40 million euros and the creation of some 90 jobs between these five inaugurations.
Far from stopping here, in the next three years Lidl plans to make a historic investment of more than 100 million euros which includes the opening of new stores, as well as the modernization of existing ones.