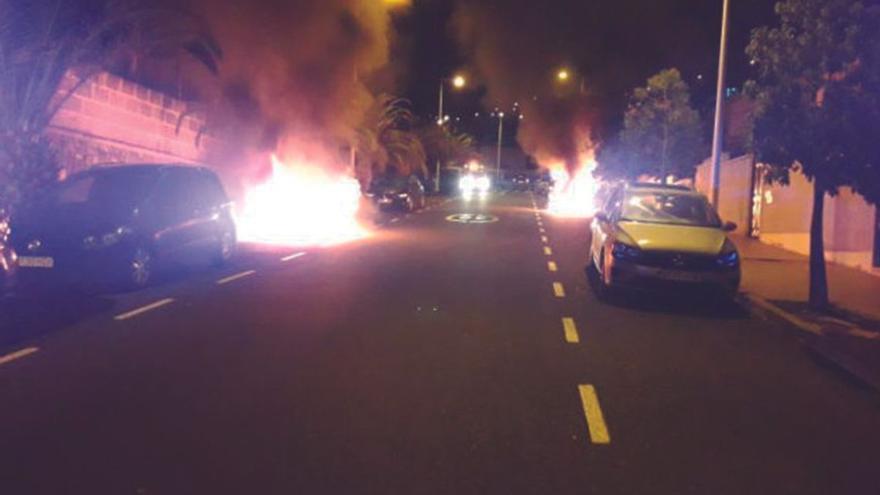 This Sunday, October 9, is the three years since a businessman from the South of Tenerife suffered a attack on part of their property in hours at dawn The act was committed in a residential area of ​​Costa Adeje by people who still they have not been identified or arrested. The reports of the researchers of the National Police confirmed that the fire was caused intentionally. However, in the proceedings carried out, the agents were unable to locate witnesses or security camera recordings that would provide clues about the perpetrators.
individuals They burned two cars that were parked on different sides of the same road. But also, they tried to start a fire at the entrance of the house of the affected family.
The event occurred, specifically, in the lisbon streetwhich is the road that connects the main avenue of the urbanization El Madroñal with the west bank of X-South shopping centerformer Great South.
The fires began at three in the morning, when the businessman and his wife slept inside the aforementioned address. According to the information that emerged at the time, the authors burned a BMW 318 IS and a Mini Cooper.
In both cases, according to the hypotheses considered at the time by the agents of the Scientific Police Brigade, those responsible for the damage placed products with accelerant for the fire on the central part of the front hoods of both passenger cars.
In addition, another focus was detected at the access door to the victims' chalet. The flames descended several meters along the sidewalk and also burned a palm tree and the rear of the BMW. Firefighters from the Tenerife Consortium of the Las Chafiras park had to intervene at the scene of the event to put out the fires. In addition, local police officers from Adeje and Citizen Security officials from the National Police acted on Lisbon Street.
Due to the seriousness of the facts, the matter was taken on by a group of Patrimony of the Judicial Police of the Police Station of the South of Tenerife.
So far, the circumstances by which the perpetrators of the aforementioned material damage carried out the aforementioned attack are unknown. In any case, the family harmed by said crime continues to wait for the clarification of the fact and the arrest of those involved.