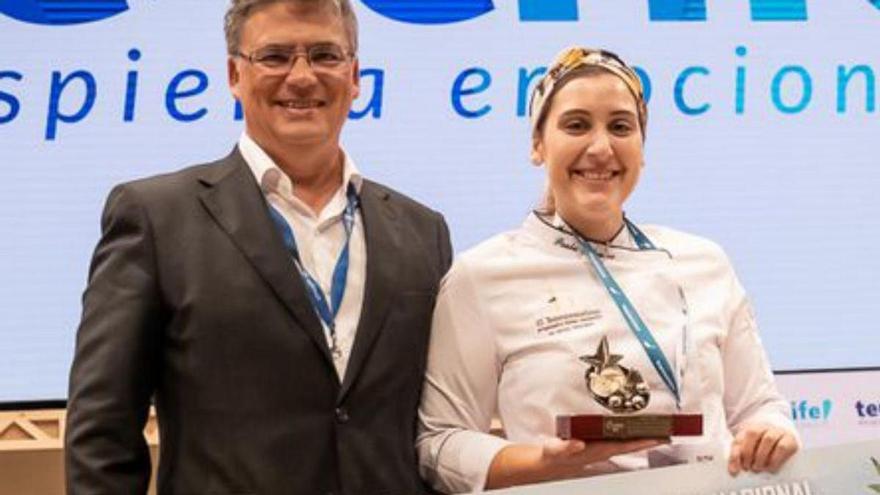 The new sweet cuisine and the tropical fruits of Tenerife were the protagonists of the last day of San Sebastian Gastronomika 2022. Paula Salvucci, from the Il Bocconcino restaurant, at the Royal Hideaway hotel, was proclaimed the winner of the II National Contest of Desserts with Tropical Fruits.
The Minister of Agriculture, Livestock and Fisheries of the Cabildo, Javier Parrilla, assures that "Our fruit has taken its rightful place on this third and last day". He adds that "pineapple, pitaya, carambola, red banana, passion fruit, guava and mango are treasures of our gastronomy that we assume as everyday and that tend to go unnoticed on our tables, but today they have been the absolute protagonists of this congress.
The morning started with a presentation by the chefs Laura Suárez (Tonka Bean) and Jesús Camacho (Donaire) who were in charge of showing the Congress attendees the revolution of the new sweet cuisine of Tenerife, based on the use of fruits tropical, but also in the insertion of vegetables, with which the world of confectionery and desserts has been completely disrupted.
Laura Suárez, absolute champion of Canarian Pastry in 2019, is a pastry chef trained in Diverxo and La Cabra, while Jesús Camacho trained with Jordi Butrón and Jordi Roca and received the Award for Best Work in Canary Islands Pastry in 2020 .
The day continued with the election of Paula Salvucci, from the Il Bocconcino restaurant, at the Royal Hideaway hotel, in Tenerife, as the winner of the II Tenerife National Tropical Fruit Dessert Contest. In this sense, Javier Parrilla emphasizes that "both the dessert contest and the presentation have had a great following and have contributed to projecting a fundamental part of our local product, but also of our confectionery, as an example of the international trend in creative but healthy desserts».
Salvucci, for her part, was "very happy for having managed to keep this award in Tenerife, for representing the Canary Islands and for having won with a dessert that also connects me with my country, Venezuela." The pastry chef assured that she "was trying to show that the mango is a fruit that can give us many textures and flavors, and take us from acidity to sweetness."
Along with her, five other chefs from different parts of Spain participated, such as Daniel Diez (Palacio de Luces hotel, Asturias), Aitor Lopez (Tancat de Codorniu hotel, Tarragona), Laura Dura (Bonamb**, Alicante) , Rubén Sánchez (Epilogue, Castilla La Mancha) and Matías Farfán (Nomad, Alicante).
A luxury jury
Among the members of the jury were Alberto Luchini (journalist), Igor Cubillo (Repsol Guide), Carme Gasull (Gastronomic journalist), Paulo Airaudo (chef Amelia, San Sebastián), Lucía Freitas (chef A Tafona, Santiago de Compostela) and Juan Carlos Clemente (Chef Tenerife). This luxury cast decided the winner:
Once the congress is over, the Cabildo de Tenerife and Turismo de Tenerife will donate all the food left over from their gastronomic action to the Gipuzkoa Food Bank.