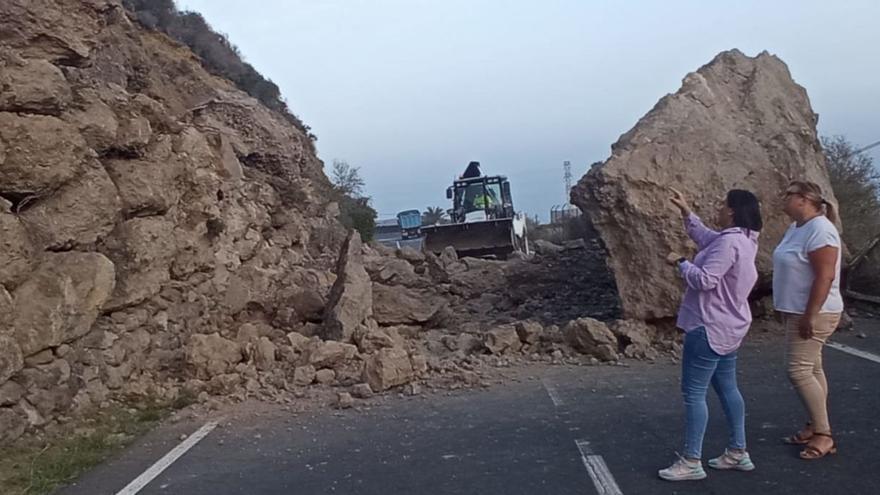 Although the El Roque highway is cleared after yesterday's completion of the work to clear debris from the road, It will remain closed for a time that the municipal government of La Guancha has not determined. The preliminary technical report advises such a measure until the work is completed to guarantee the safety of the slope from which a stone of between 50 and 60 tons fell, around 11:00 p.m. last Monday, without causing personal injury. .
The mayor explains that the first report made by a Civil Engineer, received by the City Council of La Guancha yesterday morning, concludes that, "due to the precarious stability of the slope, the reopening of the road is not recommended as long as cleanup and removal actions are completed, in a controlled manner, of numerous blocks and stones that still remain on the slope itself. Likewise, he states that the "demolition of visors and removal of the breakwater blocks that have been affected by the landslides" must be carried out.
In the documentthe technician also recommends «doing a detailed inspection of the hillside in order to detect similar risks or others not detected in surrounding areas that advise the adoption of measures, in the short or medium term, in order to guarantee road safety and physical integrity of the users of the aforementioned municipal road. The Civil Engineer clearly states in his report that the slope presents "a precarious stability", according to the municipal government.
The affected section of one more of the accesses that La Guancha has "is widely used by school transport within the route to the Plus Ultra school." Also, the road is used by many residents to move from the coast to the town center, in addition to being close to towns such as Las Cucharas and Tierra Costa or the El Roque cemetery.