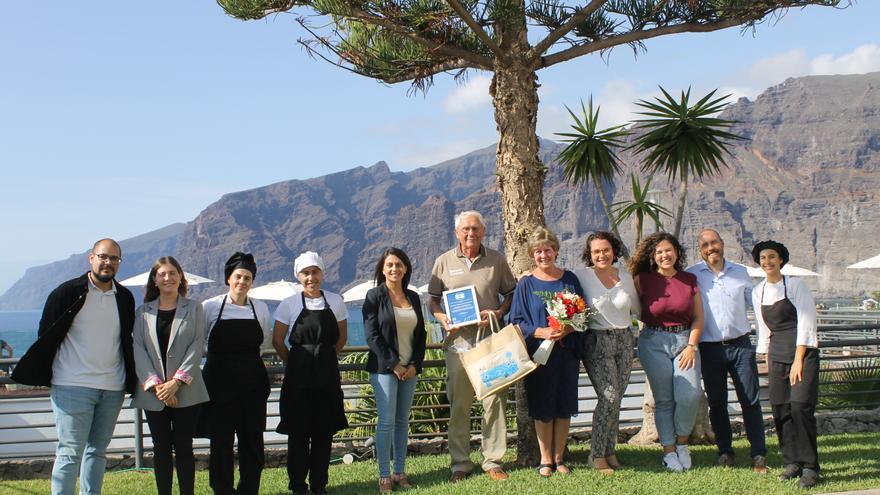 Coinciding with World Tourism Day, which was celebrated this Tuesday, September 27, the City Council of Santiago del Teide, in collaboration with the Barceló Santiago and Tui Blue Los Gigantes hotels, paid a beautiful and emotional tribute to the married couple Bruno Thüring and Silvia Dzonsko, as well as to the married couple John Peters and Elisabeth Peters as examples of tourist loyalty in our municipality.
In the case of married couple Bruno Thüring and Silvia Dzonsko, the tribute was held at the Barceló Santiago hotel where the Councilor for Tourism, Luz Goretti Gorrín, on behalf of the municipality, along with the hotel manager, Julio Barrientos, and staff from the establishment delivered some presents to said couple. who have been faithful to said hotel complex for more than 30 years.
For its part, the tribute to the couple John Peters and Elisabeth Peters was held at the Tui Blue Los Gigantes hotel where the councilor and director of the aforementioned establishment Crisanto Román Montoya gave some presents to the couple in gratitude for their more than 40 years of loyalty to the hotel and therefore to the municipality
From municipal sources it is pointed out that Santiago del Teide is an example of tourist loyalty throughout the Canary Islands since it is very difficult to find anywhere on our islands people like Mr. Thüring or the Peters family who have 30, 40 and even close to 50 years visiting and staying in a hotel in Santiago del Teide and our islands.