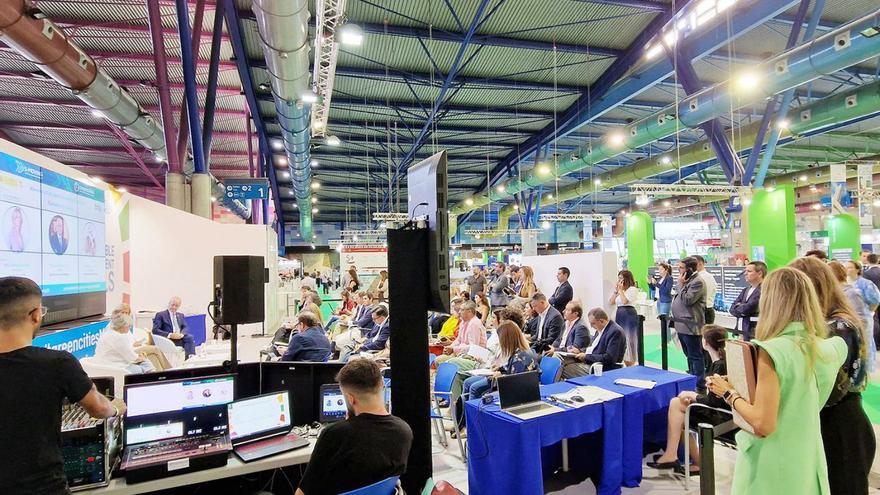 Adeje exhibits its progress in sustainability within the framework of the Greencities and S-Moving Forum, held at the Trade Fair and Congress Center in Malaga. In front of more than 250 experts in the field, he presented abroad his projects of Productive and Edible Forest, Citizen Energy Communities and Smart Tourist Destination (DTI).
Every year the Greencities, Intelligence and Urban Sustainability Forum, and S-Moving, Intelligent and Sustainable Mobility bring together cities, professionals, companies, startups, administrations and entities involved in the development of sustainable territories and more intelligent, connected and efficient mobility . More than 250 experts from around the world participated in this edition to offer a global perspective of the main challenges of urban management and mobility.
The fair is an annual meeting point of reference between public administrations and agents in the sector. In this sense, Adeje had a networking space to generate synergies with other participating cities and companies. The objective is to exchange success stories, experiences, areas for improvement and action protocols on the development and execution of Local Urban Agendas (AUL).
The Productive and Edible Forest of Adeje is located in an old urban park located in the center of the city. The City Council turns the park into a carbon sink with technical personnel from agroforestry, permaculture, etc. It occupies an area of ​​32,000 square meters, of which 16,000 square meters have been built. It highlights that the project is being executed through a public company for social integration, with 100% municipal capital.
Regarding the Citizen Energy Communities project, it stands out that it seeks to advance in the decarbonization of the municipality. Its status as a tourist destination makes it essential to achieve the objective of being neutral in emissions "at the highest speed".
The Councilor for Ecological Transition, Manuel Luis Méndez, highlights the implementation of "a pilot project called Adeje Verde", in collaboration with the private initiative. It consists of installing the first plant of photovoltaic panels in a municipal building, whose production of 100 kilowatts/hour is destined for the building's self-consumption and the surplus energy (70%) is poured into the network, so that it can be used by the 200 homes of public housing of official protection that there is in the environment.
As for the project in the process of being implemented Adeje Intelligent Tourist Destination (Adeje DTI), it aims to face two great challenges: first, to redefine the organization and processes through which urban services are provided through the use of technology; and, second, it focuses on the coexistence and compatibility of uses between the resident population and the group of tourists. The project includes the development of a tourist application and the deployment of another twelve components for the intelligent management of lighting, irrigation, meteorology or waste management, integrated into the Aero-Pulse Smart Tourist Destination platform.