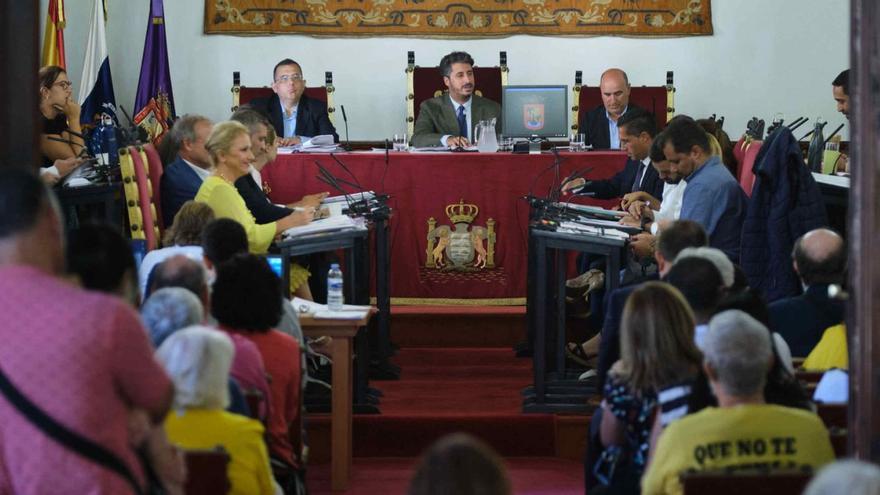 The City Council of La Laguna took part yesterday in the controversy of the partial or total gratuity of public transport in the Canary Islands and urged the Cabildo de Tenerife and the Canary Islands Government to study the possible ways for the 100% bonus. The agreement went ahead unanimously, so the Socialist Party also supported the proposal, although their colleagues in the Cabildo voted against the same initiative on August 22.
The initiative came after two motions raised by the Popular Party (PP) and Canarian Coalition (CC), merged into one for discussion. It was not a new issue in the lagoon plenary hall. Before the controversy in the Canary Islands on this matter, and still at the beginning of June, the local leader of the PP, Manolo Gómez, proposed something similar: free transport for students up to 25 years of age and for those over 65. He repeatedly insisted on that occasion and received a municipal report against it, as well as the United Nations definition that what was being applied in other places – in reference to the Madrid City Council – were «mayorals».
Things of politics, three months later, something even on a larger scale received the global support of the plenary arch. The final text resulted from the combination of the PP's initial proposal and an amendment by the government group (PSOE, United and Avante). The first three points of the final document came out of the initiative of the conservatives. The first states: "Urge the Cabildo de Tenerife and the Government of the Canary Islands to carry out the studies so that, from this moment and until December 31, 2022, public transport travel vouchers, both for Titsa and Metropolitano de Tenerife, are discounted at 100% for island residents, with the same conditions in terms of use and management offered by the State».
The Laguneros parties endorsed the agreements of the popular ones to urge "the study and changes of as many regulations as are necessary so that the 100% discount on public passenger transport can be maintained as of January 1, 2023", as well as that the Cabildo "demands the Government of the Canary Islands, and this, in turn, the Government of Spain, financial compensation for the cost of offering our citizens this bonus"
"The City Council of La Laguna expresses its willingness to continue developing the necessary improvements in the promotion of public collective mobility, both in the bus, tram or taxi service," continues the motion regarding the contributions of the local government. "We urge that the singularities of the Canary Islands be addressed, also paying attention to the socioeconomic figures, so that the Government of Spain extends free transport to the island territories that do not have commuter train services, extending its duration whatever necessary," he says.
The Cabildo de Tenerife is also urged, "based on the provisions of article 44.1C of the Law on Transport Regulation in the Canary Islands, to apply a 100% reduction in the cost of island transport, both in buses and in trolley car". And the document continues: "We also urge to carry out the necessary studies on the real effects of these measures on mobility and the use of public transport, with a view to their future development or modification". Lastly, it calls for the "necessary legal modification so that municipalities can apply and extend free formulas in urban public transport, to favor the abandonment of private vehicles", and establishes that the agreements be transferred to the Government of Spain, to the Spanish Federation of Municipalities and Provinces, the Canarian Federation of Municipalities and the Cabildo.