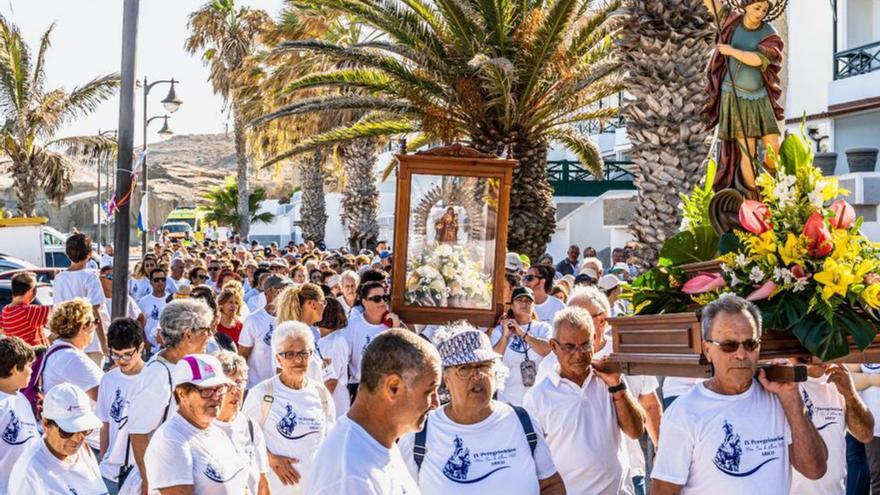 Today the tenth stage of the IV Pilgrimage of Our Lady of Abona, the Honorary and Perpetual Mayor of Arico and patron saint of the municipality and the region, will take place. Hundreds of pilgrims accompanied the image on each of the nine routes traveled since last the 18th, the start date of this religious meeting, which this year coincides with the 300th anniversary of the appearance of the Virgin.
The eighth stage started from the venue set up in Las Arenas, accompanied by the pilgrims and a large firecracker of flyers as a farewell. Along the way, the small images of Santa María de la Cabeza and San Isidro Labrador joined. At her entrance to Tajao, a town adorned with pennants and palm trees, she was received by San Miguel Arcángel, patron saint of the neighborhood, in the solemn and formal meeting. Cheers, signs of affection and folklore did not stop along the way.
The emotional moment was the stop of the images of both skippers looking at the sea, in memory of Francis and the people who died in the ocean. Already in the Plaza de Tajao, completely decorated, a neighbor of the neighborhood recited a poem before the mass in the church of San Miguel Arcángel and the agape for all the pilgrims.
The mayor of Arico, Sebastián Martín, expressed satisfaction with the development of the first week of this very special edition of the pilgrimage. The Councilor for Culture and Festivals, Dácil Cano, congratulated the neighbors "for the effort" and involvement in this "extraordinary organization of the pilgrimage." The neighbor Esther Cano spoke of the emotional, "because the whole town has gathered", an aspect in which Francisco García, another inhabitant of Tajao, agreed.