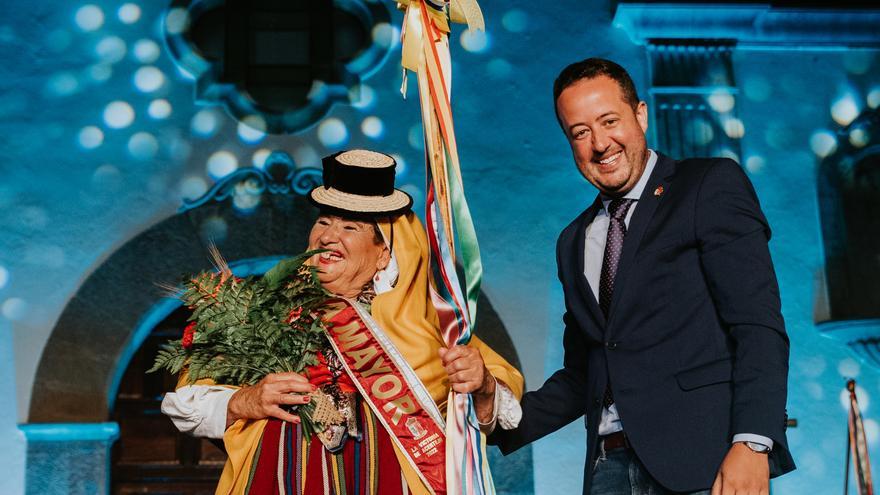 Doña Ana Ocampos González was chosen among the four candidates for the long-awaited title of Romera Mayor during a gala in which tribute was paid to traditions with a performance by the Rondalla of the Third Age Tagoro Victoriero. In addition, the attendees were able to enjoy the comedy show by Servando and Panchita, which delighted the elderly, and the music by Irinea Niebla and the Mexican performer Arturo León.
She is not the only Romera Mayor of this year's festivities, in addition to her, Doña Dolores Hernández Posadas was designated among the public, through the network, as Romera Mayor Internet of the Festivities, a title chosen by the neighbors themselves through of the votes made by the website www.fiestaslavictoria.es.
The expected gala, after these years of absence, took place in the Plaza Rodríguez Lara, which completely filled its capacity. The show was directed by Alexis Santana and featured the presentation of Patricia Hernández.
The election of the Romera Mayor of the August Festivities is the prelude to one of the most anticipated acts of this edition, the 42nd Pilgrimage in honor of San Isidro Labrador for which all records of participation of carts and adorned carts have been broken , with a dozen carts and more than 80 decorated cars. Massive public assistance is expected not only from the municipality, but from the entire region. Starting at ten o'clock in the morning, the adorning of the carts and the preparations for the pilgrimage will begin, and from 5:00 p.m. the parade of carts, yuntas, folkloric groups, pilgrims and pilgrims will begin, led by the newly elected Romera Mayor of the Festivities and who will make the usual route to El Calvario.
As usual, for this event attendees are asked to come dressed in traditional clothing.