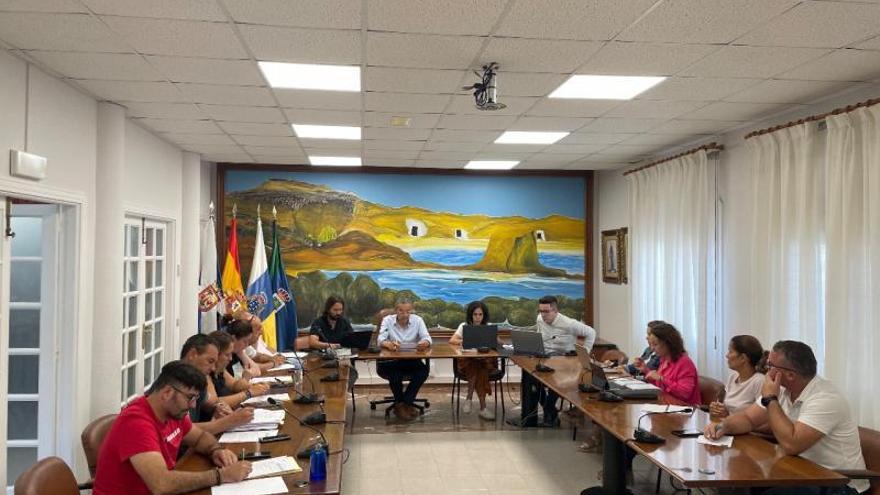 With the votes in favor of Primero Arico, DC and PP (the municipal government) and the abstention of the opposition (PSOE), the plenary session of the City Council of Arico initially approved this year's budget yesterday. Its 9,308,655 euros represent an increase of 800,000 euros compared to the previous one «and ensures the response to the economic challenge of the municipality, consolidates the financial situation and the cleaning up of the accounts, going from an average payment period of 300 to 40 days in this mandate".
Social Services and Employment, with 200,000 euros more; Citizen Security, with an extra 120,000; Environment with the historical figure of 170,000 euros; An additional 120,000 for tourist, gastronomic and cultural promotion; an injection of 75,000 euros in dependency, disability, social emergencies and scholarships; and for subsidies to cultural, sports or elderly groups, an item of 112,000 euros – the Arico Animal Association is included and the decisive support for the Tajao Fishermen's Association – are aspects that the government group highlights.
To this is added 249,000 euros in investments, which includes, among other actions, the resurfacing of El Capitan street (La Cisnera), the improvement of El Porís square, the cleaning of the entrance to the Nuestra Señora de la Luz school, signage (17,000 euros), public lighting and signage for tourist areas in the middle ground (25,000 euros), among other issues.
The mayor, Sebastián Martín, affirmed that "these are the budgets that the ariqueros need to advance in the improvement of attention and services to the citizen." Andrés Martínez, Councilor for Urban Development, valued "the transparency of the entire process, the permanent dialogue with neighborhood associations, the approval by a majority in the Citizen Participation Council – which includes these associations and the rest of the social groups – and which consolidates increases in fundamental matters for the well-being and quality of life of the ariqueros such as security, employment, social policies, environment and investment». Víctor García, mayor of the Treasury, expressed his satisfaction because "it will be the first time, since 2013, that Arico has two consecutive budgets."
The spokeswoman for the Socialist Group, Olivia Delgado, maintained that "approving a budget almost four months before the end of the year is not very responsible and rigorous, because it is an unrealistic and unaffordable budget. You cannot play like this with the future of Arico and condemning the lives of our people.
Delgado stated that "we have made more than thirty proposals to the local government designed to improve the lives of our neighbors," but "we regret, once again, that they are rejected." In addition to listing several of these amendments –400,000 euros for employment plans, 60,000 euros for a municipal transport service, in addition to asphalting streets and social aid, among others–, the mayor defended that "we continue with the same problems as 34 years ago years, which have now multiplied. The spokeswoman places the deficit in "the lack of political leadership, a government that is not there and is not expected, a government absent from the streets and more concerned with the photos than with the municipal reality."