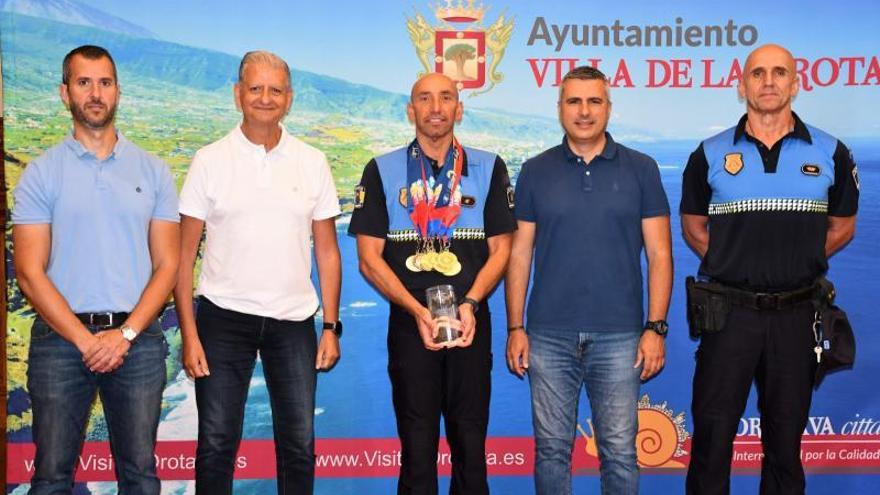 The mayor of La Orotava, Francisco Linares, received the municipal agent of Villa José Carlos Chicho Báez after his participation in the World Police and Fire Games, the World Police & Fire Games (WPFG), recently held in Rotterdam (Netherlands). In his eight consecutive appearances in these sectoral Olympics, he has won 64 medals and broken 9 world records.
Chicho won nine medals in the Netherlands, seven gold, one silver and one bronze, in various swimming categories. His exceptional total record of 64 medals is broken down as follows: 46 gold, 12 silver and 6 bronze,
Linares values ​​that Chicho is "a source of pride for this municipality, for Tenerife and the Canary Islands." He congratulated him on his sporting achievements and for representing La Orotava wherever he goes, "for which he is the best ambassador we can have."
Báez has once again proven to be an extraordinary athlete and set the bar high. For the eighth time, the Orotavense has been integrated into the Hall of Fame of the Games (Hall of Fame), a space reserved for very few.
The World Police and Fire Games is a biannual sporting event open to the participation of both active and retired personnel from the world's Security Forces and firefighters. They have more than sixty disciplines and participation exceeds 10,000 people. The next ones will be in Canada.