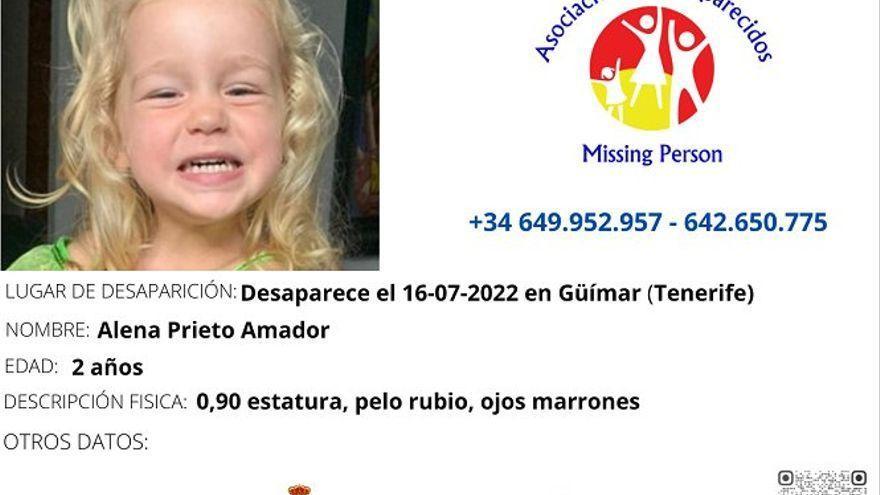 The Asociation SOS Missing has activated the network of ATMs throughout Europe to spread the alert for the disappearance of APA, disappeared in the Tenerife municipality of Guimar last July 16. In the aforementioned alert it is recalled that the little girl is 2 years old, she is 0.90 centimeters tall, blonde hair and brown eyes. There is evidence that she has traveled with her mother to Barcelona and Switzerland, according to investigations by the Civil Guard.
La Sos Desaparecidos has activated this alert after the head of the Court of Instruction No. 3 of Güímar has issued an order in which issues a European arrest warrant for the mother of the girl from Güímar. In the aforementioned order, the magistrate also agrees to withdraw the parental authority of the little APA from her mother to hand it over to her father, JP
This decision comes after the woman, PA, will not return to Tenerife last Friday, August 12as she herself had confirmed to judicial instances and as stated in two tickets purchased for her and her daughter that were sent to the Court, according to judicial sources.
According to the judicial order to which he has had access The daya newspaper that forms part of the Prensa Ibérica group as well as this media outlet, the magistrate has issued the aforementioned European arrest warrant and delivery to the Spanish judicial authorities of PCAM to take a statement as an investigator.
Likewise, the magistrate orders the precautionary suspension of parental authority over the minor, as well as the delivery of the same to the father through the Family Meeting Point of Tenerife.