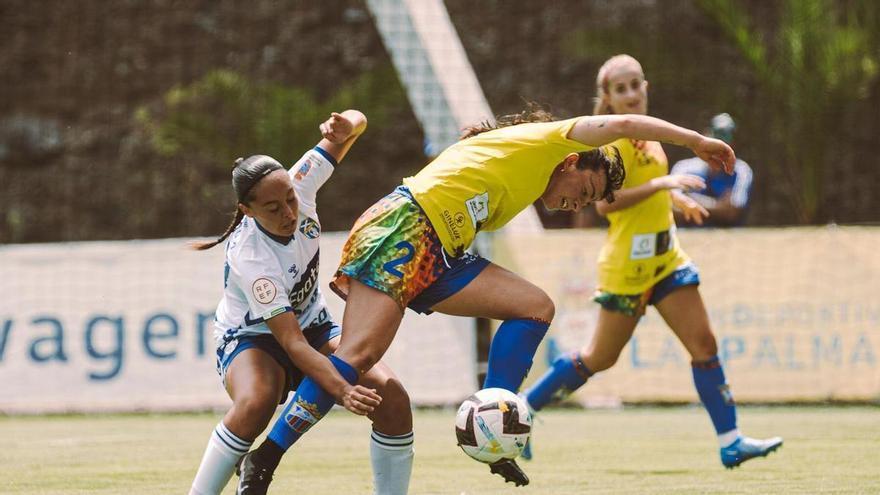 The Big John -team that militates in the First RFEF– debuted in preseason against UDG Tenerife Egatesa -team currently in the Primera Iberdrola- in the first preparation match for the new league campaign, which it was decided in favor of Tenerife thanks to a goal from Andrea Marrero after 16 minutes of the match.
The Gran Canarias faced a team full of their own names, which in this new season has changed its coach and has undergone some changes in its squad. For their part, those of María Pontejo keep their backbone intact, joined by a total of four additions who have had the opportunity to debut as starters in the Canarian derby.
The match developed at its start with the inaccuracies typical of these heights of the seasonwith a certain dominance of possession by the team led by José Herrera, while the locals were solid in defense.
A set piece play, the result of a foul on the left side, was executed by Pisco who found Andrea Marrero's head at 16 minutes, to surprise Vicky, raising the score to 0-1.
Shortly after, it was Silvia Doblado who would try to increase Tenerife's income with a powerful shot from the right wing, but was met by Vicky's response who, with a saving hand, prevented Tenerife from doubling their income in the electronic.
Tenerife's advanced pressure put Juan Grande's game of creation in difficultieswho suffered in the final stretch of a first half in which the scoreboard would not move again.
José Herrera chose to change all his players after the breakwith the exception of Silvia Doblado, but without changing her game scheme one iota, while the Gran Canaria team made only one change, bringing on Eli González.
It was precisely Silvia Doblado who, eight minutes after the restart, would cause the first clear chance for the Blue and Whites, which Feudjió finished off, in a new chance that was successfully resolved by Vicky.
The passing of the minutes allowed Juan Grande to balance possession, beginning to create chances against the rival goal.
Eli González tried with a long shot at 66 minutes that Gurtner stopped without too many problems, Tenerife reacting to Gran Canaria's attempts with a free kick executed by Ortega at 69 minutes, which was stopped in two periods by Vicky.
Raquel and Alba Quintana were the protagonists of the clearest occasions in the final stretch of the second halfbut without finding the way to the rival goal, closing the clash with the usual 0-1 on the scoreboard.