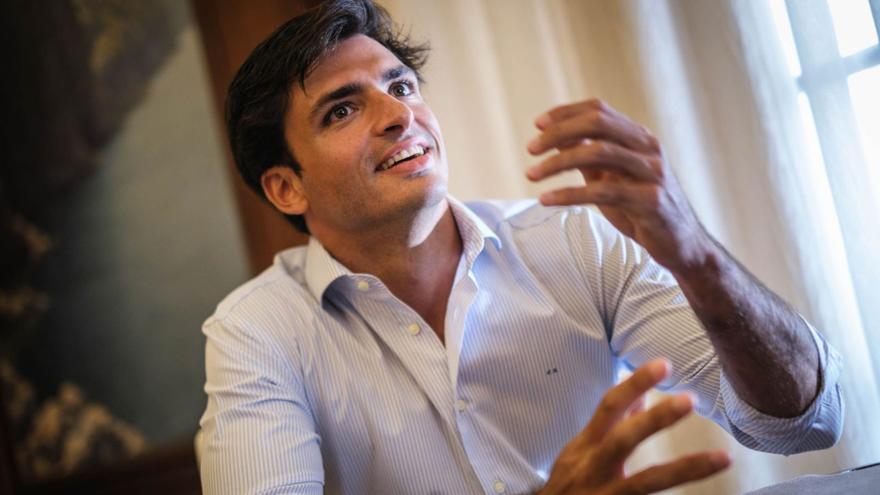 Carlos Sainz came to the Island at the beginning of the week to sponsor the Tenerife circuit. The 27-year-old Ferrari driver has had an engine under his arm since he was born. That is why he knows perfectly the importance of an infrastructure of this type. "A circuit can give many opportunities," he stresses.
Carlos Sainz arrived on the island last Tuesday, to support the Tenerife Motor Circuit and participate in its presentation, at the best moment of his sports career. After removing the junior label from his name –and above all that of being the son of one of the best drivers in the history of Spanish motorsports–, Sainz has established himself in recent Formula 1 races as one of the best drivers at Ferrari steering wheel, especially after winning last day 3 at the British Silverstone circuit, the second Spaniard to win at least one race after Fernando Alonso. "My dream is to be the Formula 1 world champion," he admitted during the presentation of the projected circuit in Granadilla.
In an interview with EL DÍA, Carlos Sainz defends that Tenerife is a place "with excellent conditions" for the motor circuit and that "it would make perfect sense to come to train on the Island". The pilot assures that he has been to the Canary Islands other times, that a circuit generates a lot of activity and that Tenerife's car fans "can't find it everywhere".
Why did you accept the proposal to sponsor the Tenerife Motor Circuit?
First, I have very good memories of Tenerife. When I was very young I came with my father and then on vacation. I accepted because it is a new circuit and my life takes place on the circuits. It would be a very good opportunity to have another circuit in Spain and more on this island.
It's not just the competition and training. A circuit, like the motor world in general, moves a lot of people. What can you tell the fans about the importance of building a circuit like this in Tenerife?
People only remember the grand prix, the drivers, the teams, but they don't know the great number of opportunities that a racing circuit can offer. They are operational 365 days a year, brands use them for commercial and competition vehicle tests, events of all kinds can be held… For me, the circuit is an infrastructure that always makes sense.
And more an island that lives from tourism like Tenerife?
An island that lives off tourism and an island that meets excellent conditions to host a circuit and major motor-related events: it has an excellent climate throughout the year and a great fan of motor racing. Here there are many followers, both rallies and Formula 1 and motorcycles. You can't find this hobby here everywhere.
How many times have you been to the Canary Islands?
That you remember, once in Lanzarote and several times in Tenerife. I went up Teide once, I was on vacation playing golf… I remember I went to Lanzarote to prepare myself physically. There is a lot of interest in triathlon there and there he was preparing me to do an Ironman. As a child I was also in Loro Parque, a true classic.
Would you come to train at the Tenerife Motor Circuit?
There is nowhere in Europe that has as good weather as Tenerife in January or February. For me it would make perfect sense to come and train here. The conditions on the Island are more or less those that occur in most of the Formula 1 season, spring and summer. It would be a guarantee to come to the Island to prepare for these reasons.
What do you think of the circuit that is projected in Granadilla?
I've had a quick look. They will have to explain it to me more calmly because I am crazy about circuits, about their design. As a child I remember being at school with 13 years designing circuits. If at any time you need advice on any particular section, any curve, I'll be here.
He has received support this season from rival teams, shows of sympathy and respect that are very difficult to see in a world as competitive as Formula 1. Teams like Red Bull, Mercedes or McLaren have supported him in bad times this season. Does this good vibes work or does it come out spontaneously? Do you think that pilots should take care of these aspects?
I'm not looking for any kind of profile or answer. I am as I am and it has happened that the teams I have passed through are fond of me. But I'm not looking for it. There my father has had a great influence on the way in which he has educated me since I was little. I behave based on that education.