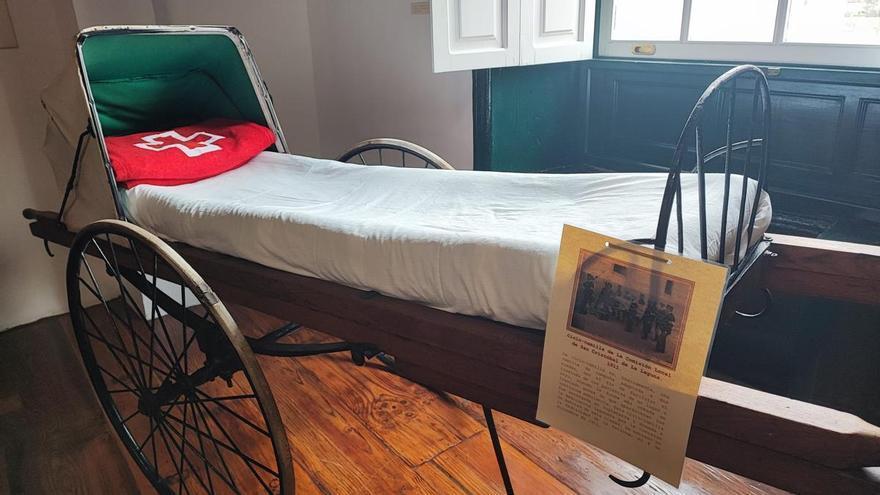 Red Cross opened this Friday, July 22, at its headquarters in Cross port, at number 5 on Calle Agustín de Bethencourt, the first museum room for visits and public consultation of this entity in Spain. It is a space that pays homage to the origins of the organization in the province of Santa Cruz of Tenerifesince its foundation in 1895.
The national president of the Spanish Red Cross, Javier Senent; the mayor of Puerto de la Cruz, Mark Gonzalez; the provincial president, Mayte Pocielloand the regional president of Valle de La Orotava, Helidoro Gonzalezattended this inauguration, accompanied by other representatives of the institution and the Municipal Corporation.
This museum room also houses a large part of the collections that the Red Cross Historical Archive in this province, along with various material that is shown in a traditional Canarian mansion from the 18th century to divulge the beginnings of the institution in this province and the organization of its activities in the first decades of the 20th century.
This resource will reveal the first steps of the Provincial Commission, the first services to help the population, the creation of the Urban Ambulance and the Sanitary Brigadethe construction of the Social Building and its evolution, the Dispensary for the Poor and the creation of the Ladies Nursing Corpsas well as the multiple fundraising actions or the old celebrations of the Fiesta de la Patrona.
This museum space offers panels with informative texts and old images, documents, numerous objects and material as curious as the cycle stretcher of the local commission of San Cristobal de La Lagunadating from 1911 and used to transfer patients from one place to another.
You can also see in this exhibition a sample of the documentation generated by the different departments of the Red Cross in the daily performance of their activities, as well as some elements of great historical interest, such as the portable first-aid kit of the commission of Cross port of 1915 or the so-called apron stretcher, a model created by Nicasio Landa in 1865.
In the area dedicated to the medical dispensary and the nursing ladies, a period medical consultation has been set up, where the instruments and medical devices used in those first decades of the 20th century are exhibited. An exhibition space is also dedicated to the uniformity of the Institution, and a sample of the programs and posters of events organized by the Red Cross to benefit different causes.