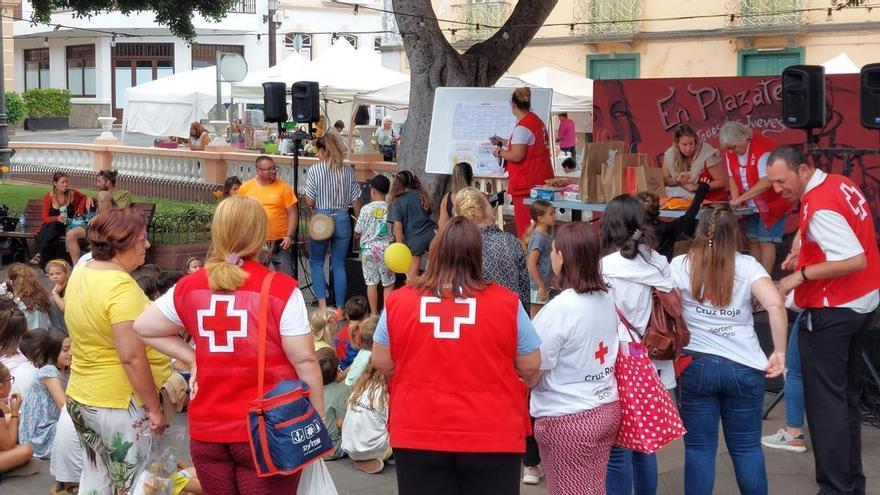 Tenerife hosts this Thursday, July 21, 2022, the 43rd edition of a gold raffle that will distribute prizes valued at 7 million euros. This is the Golden Draw of Red Cross of 2022 that, for the first time in history, is celebrated in Tenerife.
This organization emphasizes that the Gold Draw is essential for the development of all its solidarity work and points out that "It is always a good idea to support initiatives that strengthen solidarity work of any humanitarian organization, but this year, although it sounds like a cliché, it is more important and necessary than ever: with a health crisis, a volcano and an armed conflict in Europe, social and economic instability and moments full of uncertainty make vulnerable people who to date had never required the help of Red Cross".
It will be this Thursday July 21, at 6:30 p.m. (Canarian time), at the Leal Theater in San Cristóbal de La Laguna. The organization of this national event has been possible thanks to the support of the Lagunero City Council, which has granted the use of this space and other collaborations for the proper development of the raffle acts. Roberto González, presenter of Televisión Canaria, will be the host of this event in which the more than 11,700 prizes that are distributed will be announced. It will be broadcast live on You Tube (it can be followed at the following link).
Red Cross announces that it seeks "to catch the optimistic character of the Canarian land and support it in a year that has not been easy for the islands. After the emergency caused by the La Palma volcano eruptionwe want to value the strength and resilience of the population of Palma and the Canary Islands, and to be together with everyone to continue working on the recovery of normality".
In addition to the draw, the Red Cross organizes this Thursday Various activities around the Teatro Leal, between 2:30 p.m. and 6:00 p.m.: an exhibition of vintage and current uniforms, articles and ambulancefirst aid materials, practical workshops, information booths, photo calla gymkhana with distorted reality glasses, a three-in-a-row game of marine debris or simulation circuits for people with some type of disability.
This year the campaign slogan Gold it seems, Red Cross is revolves around all the solidarity work behind the Golden Draw, "because work for equality, reception, protection, well-being, relief, sustainability, school success, future employment, company or health are gold".
Red Cross details that each ticket of 5 euros that is acquired is equivalent to a first aid kit of basic products for one person; four tickets (20 euros) are a complete backpack that a boy or girl in social difficulty can use with their school supplies to guarantee their education; twelve tickets (60 euros) are accommodation and emergency psychological care for one day for a woman victim of gender violence.
The design of the 2022 tickets comes from the cartoonist and illustrator Flavite Bananawho has been able to put down on paper their commitment and that of the whole of society with elderly people who feel alone, victims of gender-based violence, minors without resources, refugees fleeing war or violence in their country, families that cannot turn on the heating or shower with hot water, or those that do not have the same job opportunities as the rest due to lack of training, among others.
More than 7 million euros in prizes
The Golden Draw distributes more than 11,700 prizeswhich exceed 7 million euros in prizes, or its equivalent in gold. 3 million euros are distributed for the first prize, 1 million euros for the second prize, 500,000 euros for the third prize, 250,000 euros for the fourth prize, and 100,000 euros for the fifth prize.
In addition to these top 5 main prizes, Thousands of prizes are distributed to matching numbers with a different series than the one awardedor those that coincide in the last four figures with different amounts.
The bases and the winning numbers can be consulted in the page raffle websiteat the telephone number 900 100 014, or by sending an SMS *** to the number 215757 (word GOLD, space, ticket number, space, serial number).