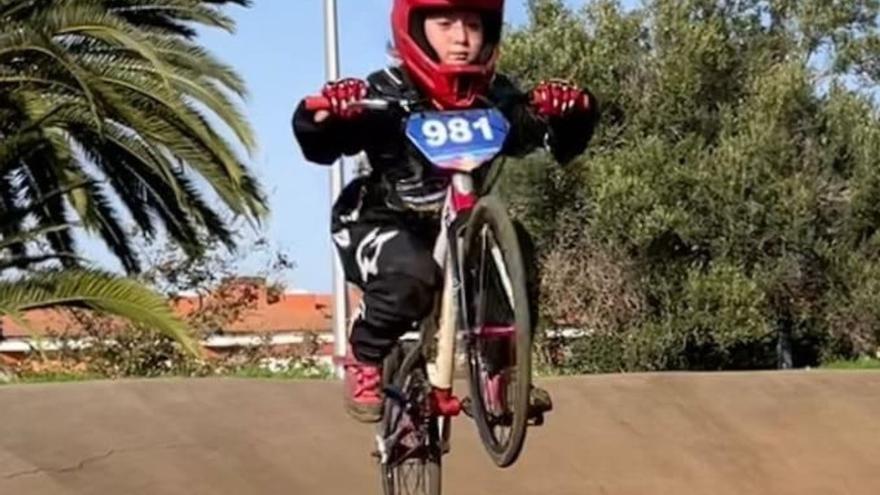 Paula Pena Ribot is a girl from Tenerife who, at only 8 years old, shines on the national sports scene with her gold medal in the Spanish championship of cycling BMX (bicycle motocross) this year and the silver medal he obtained in 2021. Now he is preparing to participate, for the first time, in a world championship, to be held at the end of this month of July in the city of Nantes (France).
"I want to improve myself and now try to be the world champion. It's my dream," says Paula, who is in the second year of primary school at the CEIP Camino de la Villa, in The lagoon, where, as she confesses, sometimes her class friends congratulate her on her sporting successes. She follows the advice of her parents, and responsibly simultaneously studies her, in which she gets good grades, with sports.
His parents, Maria Ribot, an administrative worker, and his father, Adrián Peña, an unemployed electricianacknowledge that it is very difficult for them to meet the expenses of this trip to France, but they are clear that they should not deprive their daughter of "an opportunity that she has earned on her own merits and to which she is entitled".
His mother is a clerk and his father, an unemployed electrician, cannot afford his travel. waiting for financial aid
They explain that in January they asked the Municipality of La Laguna an aid to be able to pay for this participation in this world championship, and although the municipal government was receptive to helping her with future sponsorship, the reality is that for this important appointment in Nantes they have not received any subsidywhich has complicated the situation.
For this reason, María and Adrián have had to save as much as possible on transportation and the only way they have found is to travel by boat from Tenerife to Huelva (1,500 kilometers in 38 and a half hours) and then drive to France (another 1,600 kilometers). , with which, between round trip, 6,200 kilometers will be covered in this way, since plane tickets were unaffordable.
Training
Meanwhile, Paula trains three days a week for two hours each day, in the La Vega Park Circuitfrom the municipality of La Laguna, with the club to which he belongs, the Bmx T'rider.
This national champion says that she has a great time training and in the competitions she has attended outside the Canary Islands. His wish is to dedicate himself professionally to cycling, but he must go step by step. And the ones she has given so far cannot be better.
His sports idol is the Colombian runner Mariana Pajónwhich has been two times gold medal in Olympic Games, who is known as the queen of BMX. "I want to be like her, she's my favourite," says Paula.
Paula's parents do not hesitate to feel "proud" of their daughter's achievements, although they are aware that this debut in a World Cup is an important level jump because, well, she is going to compete with the best athletes of her age at an international level .
In any case, María and Adrián know that, as the Olympic motto says, the important thing is to participate, not to win, although they do not hide the fact that their daughter has just won the championship and a runner-up position in Spain, after her victory in Canary Islands, and that is already a remarkable record that allows him to face this global challenge.
"We are investing all our time and money in this hobby of Paula, and we do it because she has earned it by hand", confess the parents of this athlete, who maintain the hope that the City Council of La Laguna or another public institution or company Private can help them not only now but in the future so that their daughter can compete outside the Canary Islands, since the distance from the continent is a handicap for a modest family due to the extra cost that it entails.