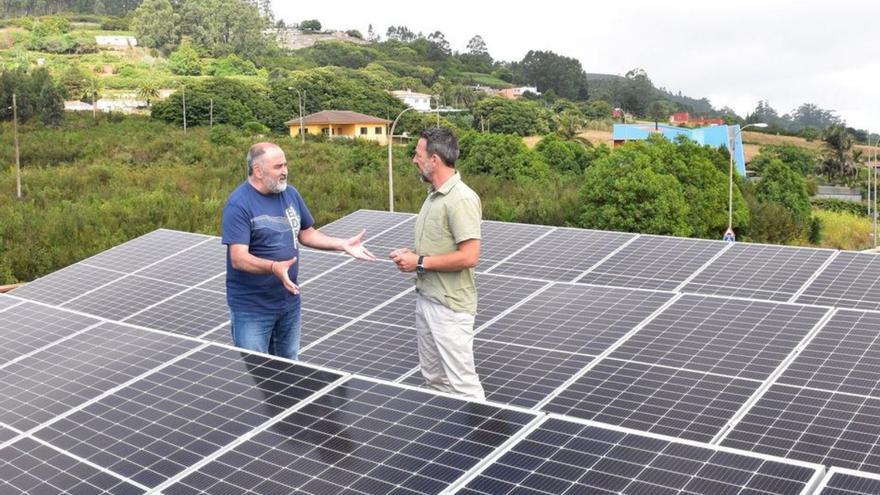 The City Council of El Rosario has installed 469 photovoltaic modules in nine municipal offices. With this measure, which was presented yesterday by the mayor of El Rosario, Escolástico Gil, and by the Councilor for Ecological Transition, Fidel Vázquez, 197 tons of CO2 will no longer be emitted into the atmosphere and energy savings of 194,296 KWh will be achieved. , which represents 63% compared to the current situation. In addition, part of the electricity generated will be fed into the network as it represents a surplus with respect to the average consumption of municipal facilities, which will generate an estimated saving of 57,000 euros per year in the municipal electricity bill.
This solar panel project has been possible thanks to a total investment of 372,000 euros, financed thanks to a grant from the Institute for Energy Diversification and Saving (IDAE), dependent on the Ministry for Ecological Transition and Demographic Challenge, and with City Council's own funds. The mayor of El Rosario stresses that With this project "we take another step on the road to sustainability, generating our own clean energy, which will allow us to be self-sufficient and, in addition, pour the electricity we do not consume into the grid, achieving great savings for the public coffers».
The Councilor for Ecological Transition, Fidel Vázquez, recalls that "the local government is totally committed to energy self-sufficiency" and details that due to this "we have started our own rooftop revolution within the roadmap that our Plan of Action for Climate and Sustainable Energy with which we seek to reduce CO2 emissions by 55% between now and 2030».
The buildings in which the photovoltaic panels have been installed, with a total installed power of 200 KW, are the two nursery schools; the schools of La Esperanza, San Isidro and Machado; City Hall; the Llano Blanco Theater School; and the sports halls of El Chorrillo and Lomo Pelado. In addition, the Scada system will be used for the visualization and control of the photovoltaic plants. This tool will be managed through a web portal or mobile devices to know, at all times, the generation of the installations, the consumption of the dependencies and the operating alarms.