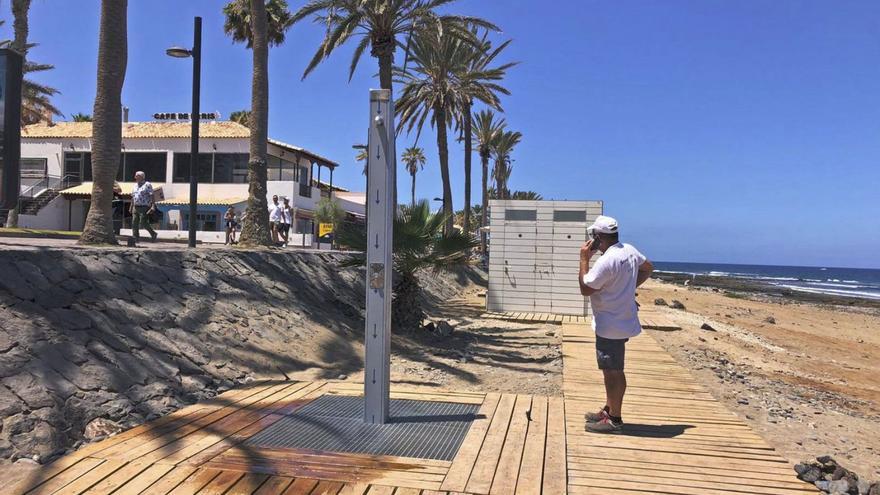 Arona opens showers, public toilets and a wooden walkway in Playa Honda. The southern City Council, through the Environment and Sustainability Area, has launched these new services, some resources that join the Rescue service, in operation throughout the year, from 11:00 a.m. to 7:00 p.m. in season high and until six in the evening in the low.
The mayor of the southern municipality, José Julián Mena, values: "The work of improvements in our public spaces, and in this case of the coast, is continuous throughout the year and follows the roadmap of the Arona Avanza plan». He adds that "it is a comprehensive strategy to improve the municipality, both in infrastructure and in resources and public spaces so that it continues as a benchmark and capital of the South Region, as well as a national and international tourist destination."
Playa Honda is a area very visited by lovers of surfing of the entire Island. From this summer, the beach will have these services that join the Rescue, with two lifeguards, every day of the year.
Environment and Sustainability of Arona thus continues with its commitment to offering citizens and tourists quality public spaces. In this case, with safe and fully equipped beaches with basic resources.
For Leopoldo Díaz Oda, mayor of the Area, it is "essential to continue providing services on our coastline and other public spaces." He insists on the idea that "its use is made easier for our citizens and visitors."
On this occasion, Díaz values, "we have improved Playa Honda, an area much visited by surfers from all corners of the Tenerife and the world, both by installing public toilets and showers and by establishing the indispensable lifeguard service».
For his part, the councilor Tourism, José Alberto Delgado, highlights that «throughout the year, and from different departments of the city council, we work to have our beaches in optimal conditions of quality and resources. This means that Arona continues to be one of the most demanded destinations at a European and national level."
Playa Honda is located in one of the most popular areas of the Island, Beach of the Americas. Compared to others in the area, it is the least known and therefore the least frequented, since it does not have the same facilities as the others. With fine, clear sand and stone areas, it is highly appreciated by surfers.