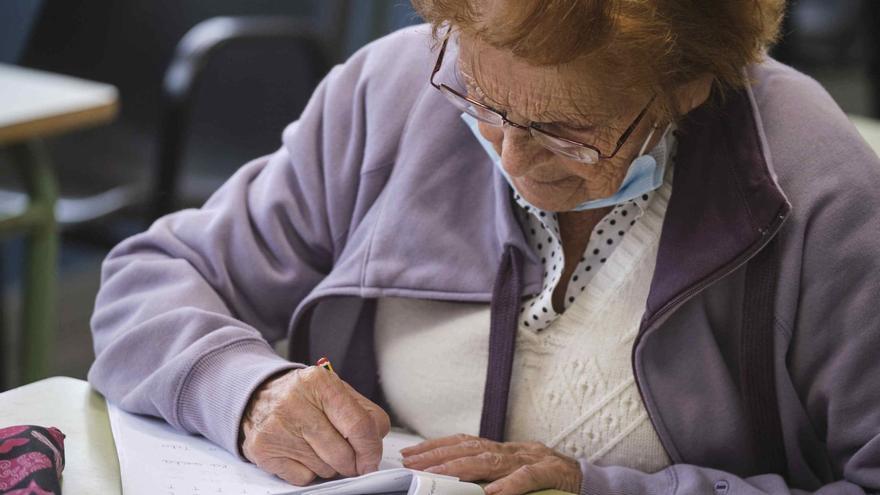 Enedina, Gregoria, María de los Ángeles, Élida and the married couple Marcos and Nereida are some of the students at the Tejina school for the elderly. Some did not have the opportunity to go to school as children; others dropped out of school to support their families… Beyond the titles, his life is worthy of being included in the history books. Going back to class means recovering their self-esteem.
Unrelated to the days of the beginning of the school year or the EBAU tests –when they monopolize the headlines of the news–, there is another no less relevant reality that is lived in the Adult Education Centers (CEPA), such as the one based in Tejina –with a metropolitan area– and which is made up of eleven classrooms that are spread over Punta del Hidalgo, Valle Guerra, El Pío, Portezuelo (Guamasa), Pedro Álvarez (Tegueste), Roque Negro, Los Batanes or Las Carboneras, among others, made up of by 472 students attended by twelve Primary and Secondary Education teachers.
These students range from 18 years old –there are also sixteen with a work contract– to 93, as the oldest student who receives classes in Guamasa. 152 are studying Primary, 115 Secondary, 164 Baccalaureate and the rest receive basic computer training. It is the profile of the Adult Education Center of the metropolitan area, one of the 33 that exist in Canary Islands; classrooms that teach classes in the morning and afternoon, adapted to the reality of the students, which is why they have also been pioneers in launching the online platform in order to facilitate the adaptation of the curriculum to the letter, taking into account diversity counts.
Among the students, unemployed people, with dependent family members, with work schedules that condition class attendance but a satisfaction that is repeated in each case: "This experience has changed my life." Beyond the title is the boost to self-esteem and self-concept.
There are many cases of students like the ones you remember Elena Espinosa, the director of CEPA of regional reference that is based in Tejina and that has its sphere of influence of three municipalities: La Laguna, Tegueste and Santa Cruz, who have rediscovered their studies, like the young woman who had to leave her studies to go to work in the hotels to support his home and resumed training at the age of forty. Or the single mother who worked in greenhouses in Valle Guerra and spent her lunch hour studying and, after studying a cycle of Rayos, allowed her to access a Nursing course where she now works.
And best of all, training restores self-esteem and provides opportunities to work. Access is done through a test that determines the level, based on personal development and ability in the world of work, where the main challenge, almost the most important to overcome, is the prejudice of whether I am worth it or not. .. From there, groups are formed that generate group cohesion, to facilitate learning from a friendly context.
The important thing is to want to learn, not the time that is invested; hence the fight of the teaching staff against the criteria of the administration that tries to limit the permanence of the students. Above all: comprehensive basic training that leads to a second stage, always in an atmosphere of trust and self-esteem. Hand in hand with these vocational teachers, the maxim that studying has no age becomes a reality. They only ask for one thing: #Give me Time.
Among the teachers who have given themselves to the eight students in this classroom in Tejina who finished classes a few days ago, Daniela Mejías, a native of Gran Canaria who, although she started Adult Education in Andalusia, this was her first course in the Tejina strain. These are some of the students and their testimonies from the classroom.
Enedina González Bacallado, 92 years old.
A native of Guamasa, in La Laguna, she was widowed 31 years ago. He has three children and seven grandchildren. She says that since she was twelve years old she started working as a domestic helper. At the age of 85, she began to go to school: "I already know how to put my name," she comments with satisfaction. More than a title, she gives as an example what she has learned: "Look, now I give my daughter-in-law what I need her to buy in writing, whether it be onions, tomatoes or garlic", she comments in a lively conversation, it is the result of going to class four times a week: Monday and Thursday from 4:00 p.m. to 6:00 p.m. and Tuesday and Wednesday from 5:00 p.m. to 7:00 p.m. She appreciates the dedication of the teachers she has had, in particular Luis, who has made it easier for her to master Mathematics, as well as Daniela herself – who is present during the visit to Tejina's classroom – and Maribel.
Gregoria Suárez González, 86 years old.
A native of Roque Negro, she has been a widow for 25 years. She has four children and eight grandchildren and great-grandchildren. "Surely I am going to tell you what she worked on: she collected cisco", for her she explains that she collected firewood in the mountains. And when she was not dedicating herself to this occupation, she dedicated herself to the wash houses of Roque Negro, carrying water or planting, the latter's main occupation after becoming a widow. "She didn't even know how to do the 'o'". "I started coming to class when I was 60 years old. Today they put a piece of paper in front of me and I know what I'm signing; Before, it was my orca and I signed it », she comments with an eternal smile. And she sends a message to the authorities who want to give permanence to the students of these classes: «what they spend on eaters they dedicate to the Adult Education Centers. Let them remember what we sacrificed when they were kids so that they would have a good position. Thanks to her dedication, two of her daughters are nurses, another works in the kitchen and another in the Titsa company.
María de los Ángeles Rodríguez Suárez, 78 years old.
Born in Valle Guerra, she married at the age of 19. She first worked in banana plantations and then alternated this occupation with work in houses in La Laguna, until she married her husband, who worked at the Acuña Agency and with whom she had six children, most of whom were dedicated to construction. – and thirteen children, plus four great-grandchildren. In her case, she began to go to school when she was little, until she was 14 years old, when she joined the working life and later established her family.
Elida Fragoso Paz, 78 years old.
This Gomeran from Hermigua spent little time on her native island, as her family soon settled in Tenerife. First in Güímar, where they dedicated themselves to packing tomatoes, until she met her husband, from El Portezuelo (Tegueste), who spent 22 years working on board an oil tanker; both father of three children. Two or three years ago she started going to school. «She knew little to read and write; now I have a beautiful handwriting».
Marcos Fernández Pérez (86 years old).
He was born a month before the military uprising, on June 18, 1936. His father had left over quota until the war began and they took him away for three years. Marcos was born in La Laguna until he settled in Tegueste at the age of 22. Married for 62 years, he has five children, one of them deceased. Two are computer scientists, another capable farmer and a daughter works in a hotel in La Laguna.
He earned a living by working hauling earth in Valle Guerra, when there was no machinery, to later dedicate himself to construction for 17 years, a job that took him to La Palma. As a boy he remembers that he went to school in one that lasted a few days, because he decided not to continue after they sent him to form and forced him to sing 'Cara el Sol', as he did not know it completely, it cost him two cakes. From then on he decided not to go back to school. He resumed his studies seven years ago, to accompany his wife; a model inseparable couple.
Nereida Acosta Bacallado, 83 years old.
She is the wife of Mr. Marcos Hernández. They met because she lived next to the construction site where she was working, who eventually became her husband; Thanks to her, not only did they form her family, but he was also encouraged to resume his studies. Like the rest of the classmates, they are the lived history of Tenerife, protagonists even of episodes that do not appear in textbooks and who today see how the new generations, especially politicians, do not value the effort they made.