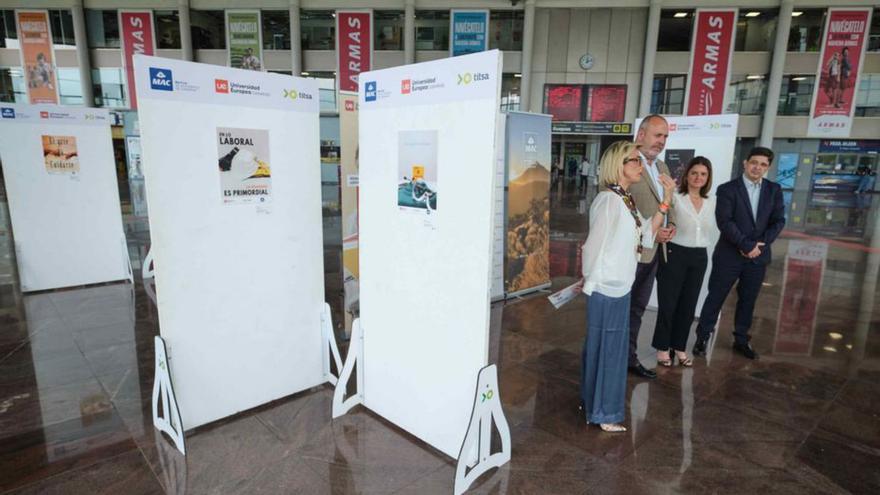 Some twenty students from the European University of the Canary Islands (UEC) have made fourteen posters, exhibited until the 28th at the entrance to the Interchange. The exhibition is held for the fifth time with the support and this year it will serve as support for the promotion of the company in occupational health.
The work of the students of the European University of the Canary Islands (UEC) will serve to design the Titsa campaign in the area of ​​Occupational Risk Prevention. The commitment arises at the end of the inaugural act of the exhibition with these creations that presides over the entrance of the Santa Cruz Transport Interchange until the next day 28. Twenty Advertising Communication students have made 14 informative posters, illustrated with photographs, in six large panels. This informative action, called Safe Companies and People, celebrates its fifth edition and has been promoted by both entities, public transport and private academic, as well as by the Mutua de Accidentes de Canarias (MAC).
Marcos Gorrín is a student in the fourth year of Advertising Communication at the UEC. He has produced a sanitary still life entitled Don't feed danger with a yellow container in the background and disposable items such as syringes, goggles or PPE in the foreground. The objective is explained by himself: "To make doctors or nurses aware of the need to deposit this material in the container."
Starting next week, each image will occupy a support space in a larger format to show off in all its splendor in a space that thousands of people pass by every day.
The inauguration was attended by the rector of the UEC, Cristiana Oliveira; the vice president of the Cabildo, Enrique Arriaga; Titsa's manager, Raquel Martínez; and the manager of MAC, Javier González Ortiz.
student participation
Cristiana Oliveira points out that "this initiative is an example of the synergies promoted by our institution, which allows students to participate in projects with public and private companies, to contribute their knowledge while learning by doing." She valued the work of professors Lucia Pitters and Enrique Carrasco.
Enrique Arriaga assures that this project helps to take further steps in changing attitudes and promoting healthy lifestyle habits because he values: "Safety at work is key".
González Ortiz affirms that the exhibition «highlights several things: the incredible creativity of the students; the importance of making society aware of occupational risk prevention; and the consolidated and productive alliance between Titsa, UEC and MAC». Titsa's manager, Raquel Martínez, indicates that "one of the fundamental pillars of the company is the safety and well-being of its workers."
At the end of the event, Arriaga and Martínez expressed to the students and teachers the high level of creativity of the posters on display and indicated the real possibility of using these designs for the transport company's occupational hazard campaigns.