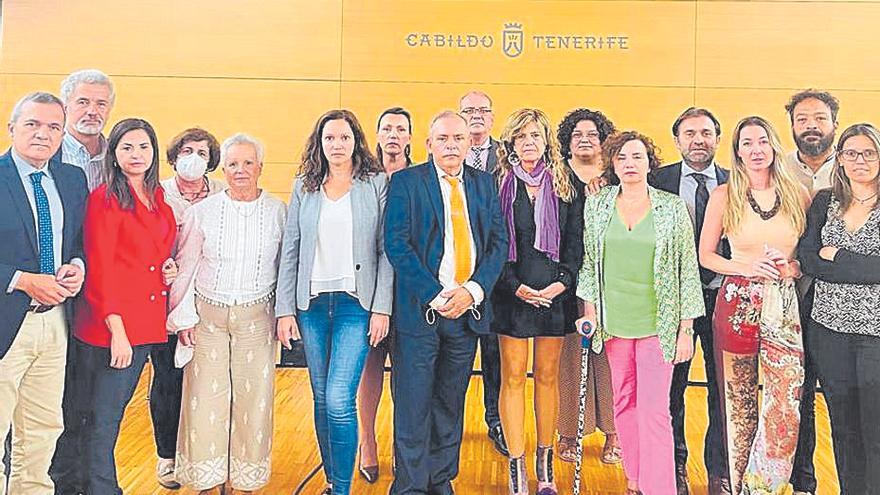 The Canarian Coalition-PNC, Popular and Sí Podemos Canarias groups in the Council of Tenerife They request, under the current Regulations, "the convening of an Extraordinary Plenary Session" to debate the end of the appearance on Human Resources, the motions and questions scheduled for the ordinary session held yesterday. They could not be treated when the scheduled time of eight hours expired.
It was not possible to debate neither the motions, seven, nor the questions, another seven. All the opposition, including Sí Podemos Canarias, which supports the government group from the outside, understood that the unusual appearance without a time limit of three councilors with responsibility in various areas – at the request of the PP, that of Aarón Afonso, and volunteers in the case of Javier Parrilla and Berta Pérez– was a «delaying tactic» to avoid entering into discussion on issues such as the Plan for the Use and Management of the Teide National Park, which were included in the agenda.
The secretary of the plenary was questioned about it and explained that the regulation says that topics that are not dealt with in one session go on to the next. The point is that the Teide PRUG is on public display until July 22nd and the plenary session will be on the 31st.
The nationalist group, which presented the motion, accuses the PSOE of "robbing citizens of the right to debate the future of the Teide National Park." "Our motion is the result of the work of the groups affected by the PRUG and today (yesterday) these people have been disrespected," they point out from the island group of the Canary Coalition.
The group also indicates that They have prevented other issues from being addressed, such as Santa Cruz hosting the headquarters of the European Tourism Agency or reinforcing the Microbiology service of the Hospital Nuestra Señora de Candelaria.