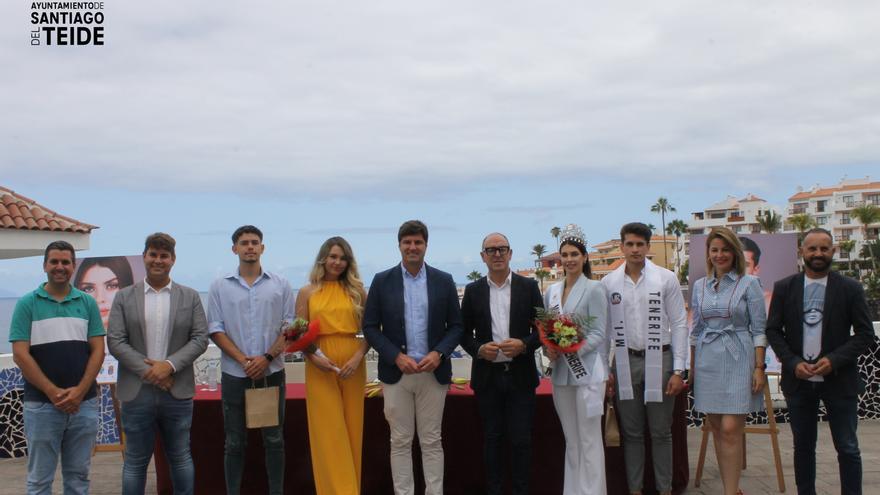 Today, Mayor Emilio Navarro presented the Mister Internacional Tenerife and Miss World Tenerife 2022 galas in Plaza Agustín León in Puerto de Santiago, which will take place on July 8 and 10, respectively, in the public square of Puerto de Santiago. Santiago and that are framed within the festivities in honor of Our Lady of Carmen of that town.
In this presentation he was accompanied by the Councilor for Fiestas, Sergio Mendoza, the president of Miss World Spain and Mister International Spain, Cres del Olmo, the current Miss World Tenerife and Mister International Tenerife, Cristina Belda and Daniel Rodríguez who have participated in these days in Miss World and Mister International at the national level in Barcelona and the representatives of the municipality of Santiago del Teide for this 2022 edition, the young Charlotte Harrison and the young Daniel Peñaloza Meneses who will opt to become the new beauties that represent Tenerife in said competitions next year as well as the presence of different members of the government group.
After two years without being able to develop, this contest is held again in which, as its organizers very well say, apart from a pretty face, other qualities such as talent prevail, if you have a beautiful social project of the municipality you represent, culture, knowing how to be and how prepared you are.
The mayor wished luck to all the candidates from the different municipalities of the island and, in particular, to the representatives of the municipality of Santiago del Teide.