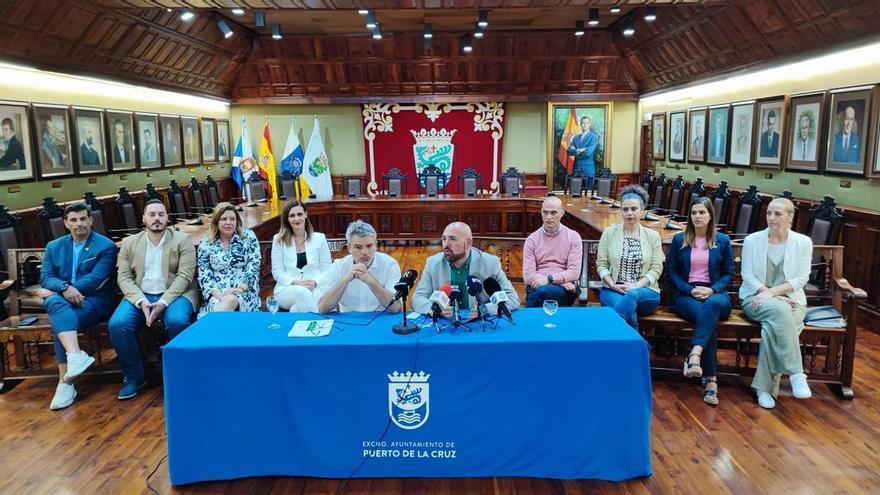 The government group Cross portformed by the PSOE and ACPappeared this Wednesday, June 22, 2022 at a press conference to take stock of his first three years at the helm of the Town hall of the tourist city, and vindicate "the work carried out and the good health of the co-government pact with the citizens". Mayor, Marco Gonzalez (PSOE)and the local government spokesman, David Hernandez (ACP)were in charge of defending the work of a government that has opted to "leave behind pessimism and longing for what was Cross port to value what we are».
"The great objective of this government was to stop talking about Cross port in the past and we have achieved it: now we talk about this city in the present and in capital letters, despite the fact that we have lived through the most difficult moment of the current democratic stage, due to the pandemic," he stated. Mark Gonzalez. He stressed that "the light is seen at the end of the tunnel in the conflict of the iders building, which started 31 years ago; there are more than 40 million euros in investment in renovation of the hotel plant, and the expansion of the Botanical Garden is finally a reality». Projects that are mixed with a commitment to a "fairer" model of society; with more social assistance; more egalitarian; capable of applying the gender perspective in a transversal way; proud and pioneer in LGBTI policies; balanced; healthy, and sustainable.
Mark Gonzalez He emphasized the commitment to the culture-tourism binomial and "the defense of culture as a transforming and development axis". A commitment that was maintained in the most difficult times due to Covid, "in which it was possible to demonstrate that culture is safe."
David Hernandez he stressed the effort in planning and organization; the occasional modification of a PGO that had not been played since 1992 and that is "obsolete"; the Urban Mobility Plan; accessibility improvement works; the asphalt plan; the improvement of sports facilities, and the commitment to sustainability.
Mark Gonzalez He recalled that the Porto City Council had canceled its debt with the banks, "but not with the municipal workers", to whom his government had paid more than 3 million euros. He valued that after many years they have reconvened 14 local police positions, as well as other technical and administrative; the creation of Taxpayer Portal; bonuses, or the recovery of sports, social and cultural subsidies.
Take back the Involcan headquarters
The Government of Puerto de la Cruz has already sent the request to the Presidency of the Government of the Canary Islands so that Puerto de la Cruz once again becomes the permanent headquarters of the Volcanological Institute of the Canary Islands (Involcan), which for years occupied facilities in the old Taoro hotel. The mayor, Marco González, considers that he should return to the municipality "because it is his natural place." In addition, González announced that the city, "origin of tourism in the Canary Islands", is running as the headquarters of the European Tourism Agency. For the president, the capital of Tenerife would not be an adequate alternative "because it does not have the category of a tourist municipality." In his opinion, if that body does not choose Puerto de la Cruz, "it should opt for some other locality of the Association of Tourist Municipalities of the Canary Islands."