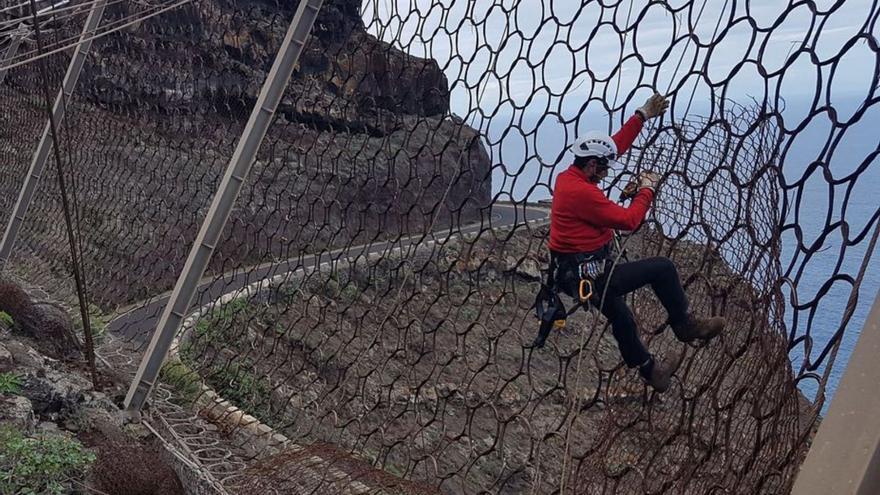 The TF-445 road of access to Teno Pointclosed for emergency works for six months, will be operational again, with the usual restrictions, starting next Tuesday June 14. The Island Councilor for Roads, Enrique Arriagaannounces the reopening of this key route for the economy and tourism in the municipality of Goodview of the North and the maintenance of the general obligation to access by public transport.
The Cabildo of Tenerife announced in January 2022 the temporary closure of this road to repair deteriorated rockfall protection systems. After several delays, due to the complexity of the work, bad weather and the delay in the arrival of some materials, Roads has been able to return the retaining screens installed on the left margin of the road and apply other corrective and protective measures against possible landslides.
Arriaga details that "the works carried out for the stabilization and meshing of the slopes have been successfully completed and, therefore, it is now safe to travel along this island road. It reopens to traffic, starting Tuesday, although with restrictions: it can only be accessed with a special authorization granted by the city council or by public transport busas was the case before these works were carried out.
The emergency works on the TF-445 began in January and have cost 476,000 euros

"The important thing now is that security has been restored and that the residents of the area, workers and visitors will be able to travel through it again and enjoy one of the most unusual landscapes of the island of Tenerife», says Arriaga. The island vice president also invites people to go to the area "in a sustainable way, preferably using public transport." The insular director of Highways, Tomás Félix García, adds that the cost of this emergency work was 475,592 euros.
Before closing, Titsa Line 369 offered nine daily departures from the station Goodview of the Northbetween 10:10 and 18:05, and many other return services from Teno, from 10:35 to 18:25.