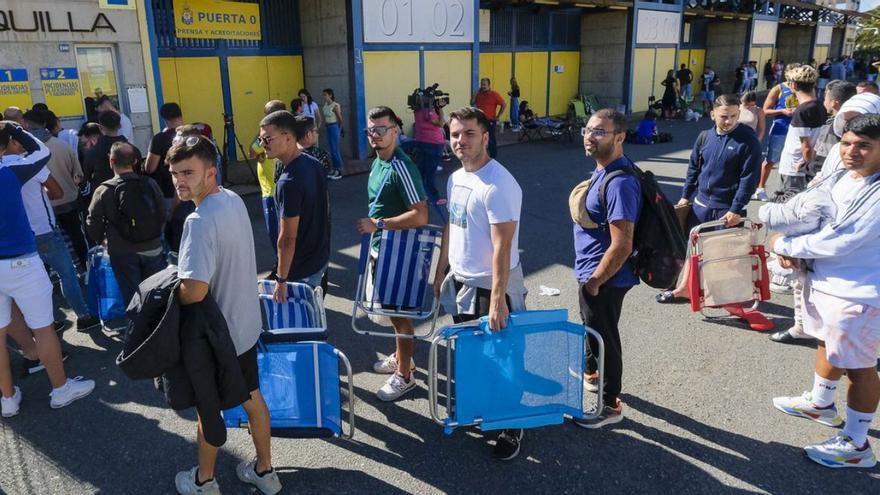 UD Las Palmas will not be alone at the Heliodoro Rodríguez López, like never before, except when the pandemic forced them to play behind closed doors. A yellow tide made up of 700 fans will encourage Xavi García Pimienta's team in search of the second consecutive victory in the chicharrero venue, this time in the playoff. Just over 350 belong to the different rocks; the rest are subscribers who got their ticket at box office 1 of the Gran Canaria Stadium yesterday morning after more than 19 hours of waiting, in some cases.
In fact, the locations were practically awarded from the afternoon-night, because the first 150 approximately organized themselves to spend the night outside the Tribuna stand and collect the tickets as soon as the window opened.
Most of the seven hundred fans will leave for Tenerife at 3:00 p.m. on a boat chartered for the occasion and will return from the neighboring island at 11:59 p.m., after the game. Many others will also travel by sea and air, but in their case in the usual boats and planes.
Once in Santa Cruz, a police device will accompany them on foot to the Heliodoro, where they will arrive at approximately 6:00 p.m. Once everyone enters, the doors will be open for the rest of the fans.
The UD Las Palmas expedition, meanwhile, will take a charter flight at 12:15 after the activation session that is scheduled for Barranco Seco field 1 at 10:15. Once in Tenerife, the players will eat, take a siesta, have a snack and receive a motivational talk from the coach and technique by García Pimienta at the Hotel Silken Atlántida, from where they will leave at 6:20 p.m. for the pitch.
The crowd at the Heliodoro is in danger: there are tickets left at the box office a few hours before the clash begins
At the conclusion of the meeting, everyone will return to Gran Canaria in the same private plane with the aim of resting before starting to prepare tomorrow for the second leg, on Saturday at Siete Palmas, where the crowd is guaranteed after the tickets sold out. on Monday. It should be remembered that subscribers have until today at 20,000 to withdraw theirs. In Tenerife, on the other hand, there are still locations at the box office and the complete one is not guaranteed.