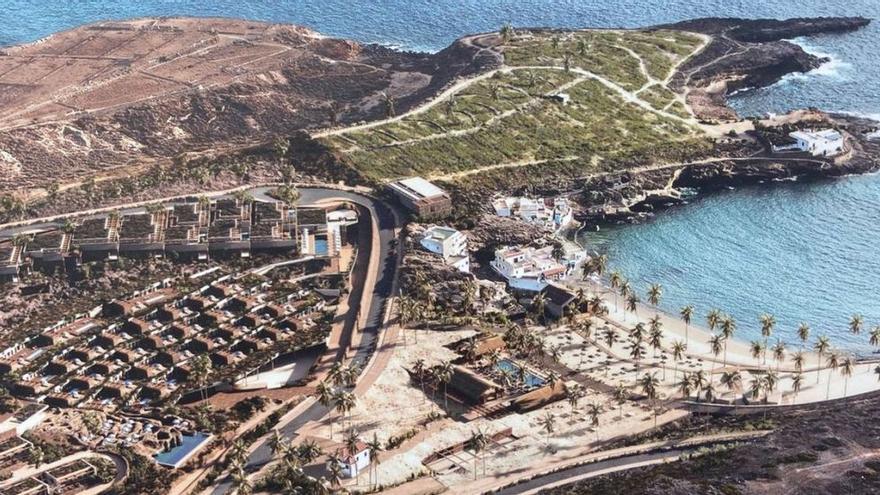 The Insular Directorate of Planning of the Territory and Historical Patrimony of the Council of Tenerife yesterday issued a resolution by which the insular Corporation suspends "in a precautionary manner" the works that are being carried out in the Puertito de Adeje areawhich correspond to the urbanization project Cradle of the Soul. In a statement made public late yesterday afternoon, the island government determined that "the suspension is conditional on the analysis of the technical study, already submitted by the company, to guarantee the protection of archaeological elements."
The resolution released this Tuesday is based on the complaint filed by the Tegüico Heritage Association before the Island Corporation. The same "has motivated the realization of an inspection, on May 24." Once it was completed "and within the process of reviewing the project documentation that the Cabildo was already carrying out, it has been verified that the patrimonial study is not available, a document that the promoting entity had presented to the Government of the Canary Islands, although not before the insular Corporation».
As a result of this situation, the Cabildo asked the entity for said report for its corresponding analysis in order to be able to issue a technical resolution in this regard, "to guarantee the protection of existing heritage assets in the area." The island government made it clear yesterday that "until that happens, the suspension" of the work in El Puertito de Adeje will continue.
The resolution issued yesterday will be notified to the promoting entity, the Adeje City Council and the General Directorate of Cultural Heritage of the Government of the Canary Islands, concludes the official statement from the Cabildo de Tenerife.
The municipal government of Adeje said yesterday that "we respect, abide by and will help in everything that is necessary in the face of this resolution." In that sense, the ruling team made it clear that "the City Council defends and is there to ensure that the law and current regulations are complied with." Authorized sources stated that "the Consistory will always be with all that decision that contributes to protect and safeguard everything that requires it."
Cuna del Alma is a tourist and residential project that will transform El Puertito de Adeje, whose first stone was laid on May 5.