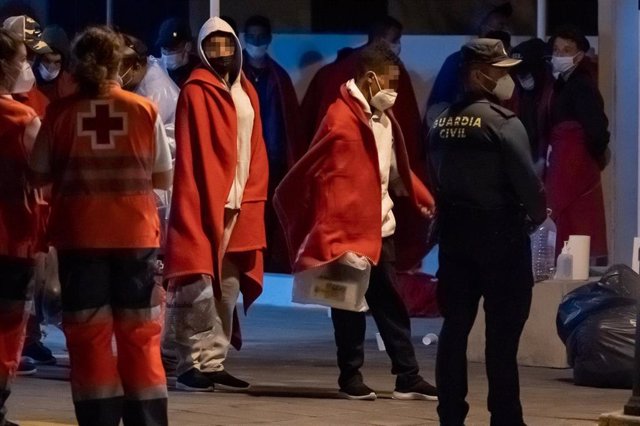 Archive – Two minor migrants recently arrived at the Punta Mujeres pier, on August 27, 2021, in Lanzarote, Canary Islands (Spain). The migrants arrived by their own means at this port on the island of Lanzarote, where an aid and attention device – Europa Press – Archive
SANTA CRUZ DE TENERIFE, 29 May. (EUROPE PRESS) –
Salvamento Marítimo rescued 221 migrants yesterday, all sub-Saharan, who were sailing aboard four small boats heading to the Canary Archipelago, as reported by the public body and the Emergency and Security Coordination Center (Cecoes) 1-1-2.
To the south of Fuerteventura, Salvamento Marítimo located two inflatable boats with 130 people of sub-Saharan origin that they transferred to the Gran Tarajal Pier. The group included 31 women, one of them pregnant, and 15 minors, all in good health.
Around seven in the afternoon, the salvamar 'Al Nair' proceeded to rescue another boat that was heading to Lanzarote with 53 people on board (34 men, 15 women and 4 children), who were taken to the dock of La Cebolla, in Arrecife . Among the occupants of the boat were 15 women, three minors and a baby.
38 Sub-Saharan migrants arrived in Gran Canaria, including four women and a baby, who came in a pneumatic located by Salvamento Marítimo. At the Arguineguín Pier, after a health assessment, the baby was transferred with his mother to the hospital for assessment.