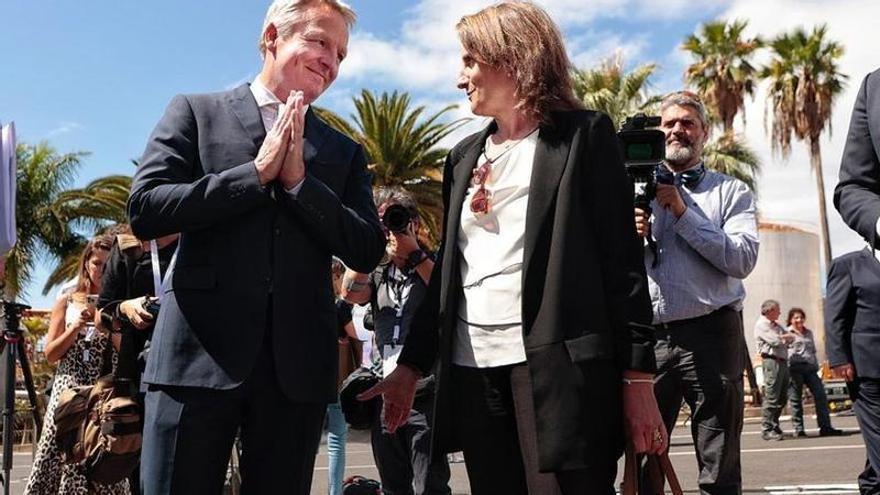 The dismantling of the Cepsa Refinery begins in Santa Cruz with the withdrawal of a container of merox. The dismantling of the refinery oldest in Spain began this Monday with the presence at the industrial plant of the third vice-president and minister for the Ecological Transition and the Demographic Challenge, the socialist Teresa Ribera; the president of the Government of the Canary Islands, the socialist Angel Victor Torres; the mayor of the capital of Tenerife, the nationalist Jose Manuel Bermudez; the president of the Cabildo, the socialist Peter MartinY the CEO of Cepsa, Maarten Wetselaar.
"It will be a complicated process but the Canarian administrations will have the support of the State throughout the procedure," said the Minister for the Ecological Transition, who added that "it is an honor to participate in this such an important day for Santa Cruz, Tenerife and the Canary Islandsbecause a unique energy transformation and recovery project of more than half a million square meters is being launched for the residents of Santa Cruz de Tenerife".
The President of the Government, the President of the Cabildo and the Mayor of Santa Cruz coincided in describing the beginning of the dismantling of the Santa Cruz Refinery, which has been installed in the capital of Tenerife for almost a century, of "historical fact". They explained that the forecast is that in 2025 there will be no more deposits in the Refinery, whose storage activity will be transferred to Granadilla port.
For his part, the CEO of Cepsa took the opportunity to pay tribute to the workers and specified that positions will be guaranteed with transfers.