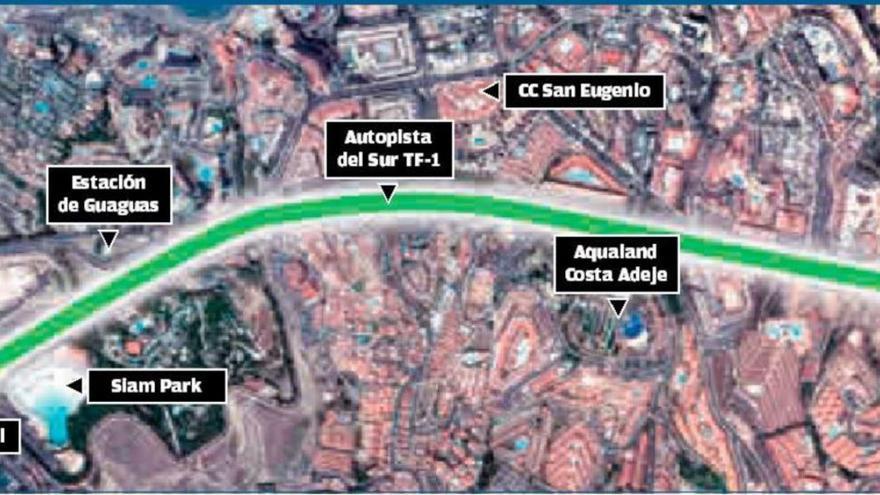 The announcement to tender the drafting of a fundamental project for the south of the Island is already in the Public Sector Contracting Platform. These are the cut-and-cover tunnel works on the TF-1 between Las Américas and Fañabé, in Adeje, and the collector roads over it. For this contract, the Ministry allocates an item of 107,222,750 euros whose multi-year spending was authorized by the Governing Council last March.
Tenerife has the funding for a major project that will help decongest traffic on the South highway and change the appearance of one of the points with the most tourist weight on the Island: Playa de Las Américas, in the part corresponding to Adeje. The works will completely modify this section of the dream motorway: about three kilometers of the TF-1 will be buried with a cut-and-cover tunnel between Las Américas and Miraverde and the upper part will become a boulevard with accessible pedestrian walkways, bike lanes and areas green.
The Ministry of Public Works, Transport and Housing of the Government of the Canary Islands, which directs Sebastian Franquis, has chosen to put out to tender at the same time the drafting of the project and the execution of the works to speed up and shorten the usual administrative processes with the intention of being able to start the work as quickly as possible. In addition, this joint project and construction bidding formula allows the contractors to more closely define the most viable technical solution to create the cut-and-cover tunnel with the least possible impact on traffic on the South highway.
The false tunnel will start on the current TF-1 next to the SiamMall Shopping Center and the police station and will end shortly before the Gran Sur Shopping Center. In addition to the cut-and-cover tunnel, the project includes expanding the capacity of this new underground section of the South highway, which would go from the current four lanes to six lanes. The contract that unifies the drafting of the project and works also gives freedom to the bidding companies to define the most appropriate construction solution for the environment to create the cut-and-cover tunnel, either through the installation of prefabricated pieces, in a trench or between screens.
Following yesterday's post on the Contracting Platform and in the Official Journal of the EU, companies that want to participate in the tender have one month to present their offers to the Ministry of Public Works, Transport and Housing in order, if there are no incidents in the contracting process, to be able to award a contract next autumn that has a term of execution of 45 months once it is signed.
The mayor of Adeje, José Miguel Rodríguez Fraga (PSOE), assured in March when the financing was confirmed that the announcement of the burying of part of the TF-1 and the creation of a boulevard is "great news that we had been waiting for some time" . For the president of Adejero, "this is an essential project to help solve part of the mobility problems in Tenerife and the South, so I am convinced that when it is finished it will improve the day-to-day life of thousands of drivers who use this via". In Fraga's opinion, the project "will help to eliminate the kilometric queues that historically form in this area because it will drive fast traffic through one level and interior traffic through another."