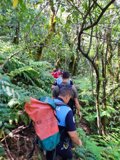 SANTA CRUZ DE TENERIFE, 15 May. (EUROPE PRESS) –
A 60-year-old woman has been injured when she fell while hiking on the path from El Bailadero to Chamorga, in the Anaga Rural Park, in Santa Cruz de Tenerife, as reported by the Emergency and Security Coordination Center (Cecoes) 1-1-2.
The event occurred around 10:45 a.m. and the scene was attended by members of the Firefighters Consortium, a rescue helicopter and a ground unit of the GES of the Government of the Canary Islands, Rural Guards, Environment agents, Civil Protection, Local Police and Police National and an ambulance from the Canary Emergency Service (SUC).
Woman, 60 years old, who at the initial moment of care presented a moderate trauma, transferred in a basic life support ambulance from the SUC to the Hospital Universitario de Canarias
Rescuers from the GES helicopter reached the affected person and immobilized her, but the thick vegetation on the ground prevented the air rescue, so together with the firefighters, agents from the Environment unit and the GES ground unit, they transferred the person affected by the path to the road where the SUC ambulance and the Local Police were waiting.
The SUC staff attended to the wound, which presented a moderate trauma, and she was transferred in a basic life support ambulance from the SUC to the Hospital Universitario de Canarias