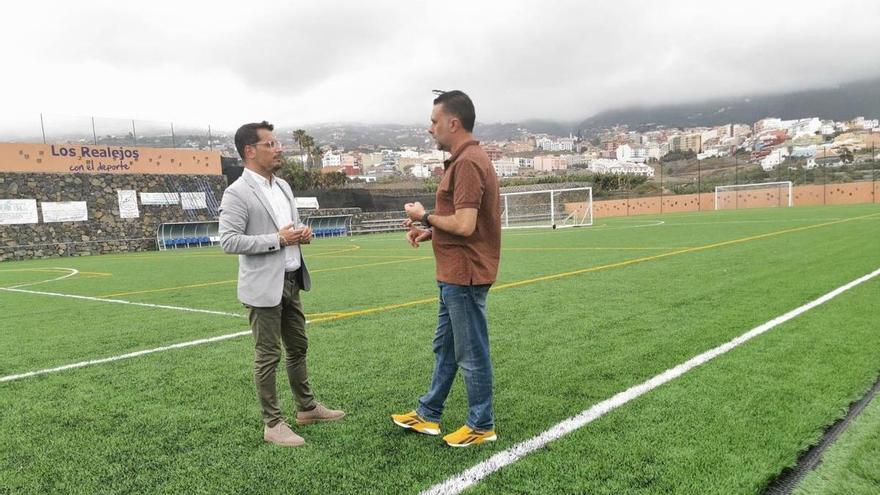 The Municipality of Los Realejos recently concluded the demanded substitution of the artificial turf of the Antonio Yeoward Stadium, in which it has invested 316,257 euros. The new lawn of the fief of lto Longuera Toscal Sports Union football has homologation FIFA Quality and required provision and prior compaction of new pavement before placement. A water tank was also created and other improvements were carried out due to the deficiencies that the installation presented in its irrigation network.
The Councilor for Sports, Benito Devora (PP), visited the facility this week together with the first deputy mayor of Los Realejos, Adolf Gonzalez (PP), to check the state of the renewed grass. And he recalled that "in the break in sports activity during the summer months, improvements will be completed in the poles of the spotlights, whose luminaires were recently replaced in a project of energy efficiencywhich will be relocated by separating them more from the playing surface for reasons of athlete safety, as well as another improvement intervention in one of the stands.
The improvements in the irrigation entailed the repair of one of the existing pumps that was not working, as well as the resolution of a problem between the installed meter and the supply network, which caused a bottleneck and consequent breakdowns. Besides, 3,000 liter tanks were installed outside to guarantee adequate supply and flow to the irrigation network, as well as new sprinklers and necessary electric pumps. In the same way, a new upper grid was arranged to facilitate the evacuation of drainage water and two new manholes at the ends.
Princes Stadium
Adolfo González announced that "at the moment the local government is already drafting its next project to replace the artificial turf of the Los Príncipes Stadium, where the Realejos Sports Union trains and plays, a commitment made with the club and with this municipality within the municipal plan for the provision and renovation of sports infrastructure, which will mean another important investment in this area.