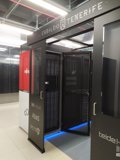 SANTA CRUZ DE TENERIFE, 11 May. (EUROPE PRESS) –
The Cabildo de Tenerife, through the Technological and Renewable Energy Institute (ITER) and the University of La Laguna, continues to work on La Palma with the monitoring and surveillance of the volcanic activity that occurs on the island with the Teide supercomputer HPC, with which meteorological simulations and climate projections are carried out for various gas emission scenarios.
The island president, Pedro Martín, stressed that the Cabildo has maintained "a close and constant collaboration with the island of La Palma, whose volcanic surveillance we began some time before the eruption occurred, on September 19, displacing the Isla all the human and material resources of Involcan that were necessary, whose work has been decisive".
For his part, the Minister of Innovation, Enrique Arriaga, stated that the projects being developed at ITER "were very useful during the months of eruption and now, despite having finished the eruption, they continue to be an important work tool for scientists." Likewise, he has highlighted that from the Cabildo they are "totally available to the people of La Palma to lend them a hand in whatever is necessary".
The Teide HPC supercomputer is a weather forecasting device that was used during the 85-day eruption to help monitor the activity of the volcano. During this period, the ITER and ULL supercomputing group also made the Planclimac and Grider projects, dedicated to simulations and predictions, available to researchers from both the ITER Environment area and the Canary Islands Volcanological Institute (Involcan). weather and climate.
The ITER and Involcan Environment group used these devices to provide detailed predictions of the wind regime in the area of ​​the eruption. It was data of special interest, since it indicated the advance of the gases that emerged from the eruptive mouth.
In the same way, the wind simulation was essential to have a weather forecast that would allow the implementation of efficient and safe measures. In addition, we must remember the emergence of several eruptive mouths, which made it necessary to have multiple predictions at different spatial points.
The techniques used and the results obtained in the development of these projects have allowed them to be used during the volcanic eruption in El Paso, to follow and monitor the process. A work, the one carried out then, which is now available to the scientific community for analysis and which is added to the surveillance and control tasks that continue to be carried out