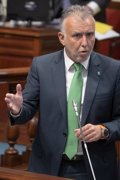 SANTA CRUZ DE TENERIFE, 10 May. (EUROPE PRESS) –
The President of the Government of the Canary Islands, Ángel Víctor Torres, said this Tuesday that the Outermost Regions (RUP) have the "opportunity" to lead the ecological transition in the European Union, but for this they should not be penalized with new taxes on maritime connectivity and aerial.
"If we are taxed we have no future", he commented in the control session of the Plenary of Parliament to questions from ASG, stressing that in the new strategy of the ORs these territories must be exempt from ecological taxes.
Torres has insisted that "there is no other place with more potential" than the Canary Islands to develop waterfalls, offshore and wind power or geothermal energy and has assured that the ecological transition will be the center of debate at the Conference of Presidents of the ORs that will be held next week in Martinique, and that will also serve to prepare the future presidency of the Canary Islands from November.
Likewise, he pointed out that the commitment to green energy is linked to some measures already taken by the Canarian Government, such as the emergency declaration due to climate change, the approval of the waste plan, the circular economy bill or the climate change, already in parliamentary procedure.
The ASG spokesman, Casimiro Curbelo, commented that a "magnificent opportunity" is opening up in the Canary Islands to promote the development of renewable energies and avoid energy dependency, but to do so, he has also called for more human resources so that the administrations can respond to the increase their own skills.
Curbelo has commented that "it is a success" that policies "aimed at people" are made to also deal with the "structural problems" of poverty and unemployment that affect the islands.