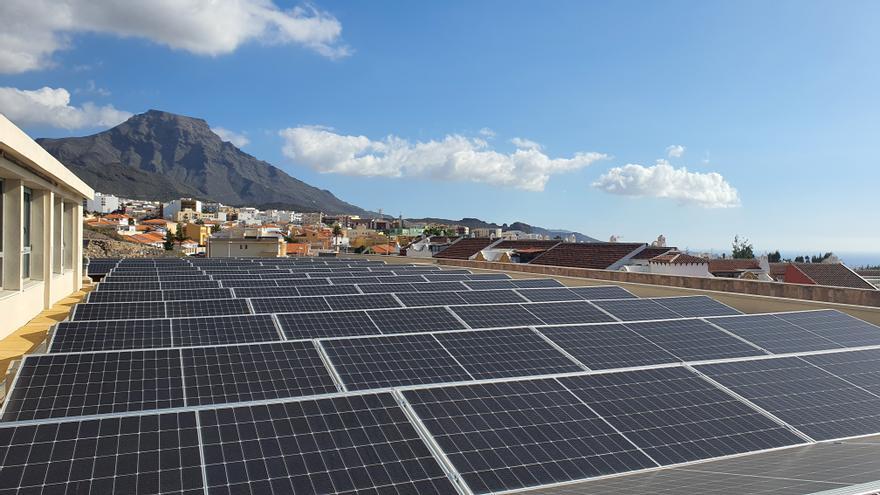 The innovative energy community "Adeje Verde" launched by E.ON Innovation and the municipality of southwest Tenerife, Adeje, is the first of its kind. The solution will allow residents and local entities to collectively produce, share and use their own renewable electricity, with the aim of meeting up to 100% of their energy needs with local renewable sources.
"Adeje Verde" has an innovative citizen participation approach based on the new Directive on the Electricity Market (article 16) of the 2019 EU Clean Energy Package, which indicates that excess solar photovoltaic (PV) it no longer has to be returned in its entirety to the network and can instead be handed over to neighbors. These regulations form the basis of the project, which will consist of several local "circles", each equipped with a rooftop photovoltaic plant at its center and run by a prosumer (producer and consumer of energy).
What are the benefits of Adeje Verde?
In the municipality of Adeje there are 360 ​​days of sunshine a year, so access to solar energy is easily achievable. However, having your own solar panels is no longer an obligation, as locally produced energy can be shared. Each photovoltaic system can provide excess solar energy to a number of neighbors within a radius of 500 meters around the production asset. This makes it possible for those who cannot afford their own photovoltaic system or do not have access to their own roof to participate in the Adeje Verde community. In this way, not only will the current energy supply be combined with green energy, but the consumption of the energy provided by the solar panels will be maximized, thus saving on total energy costs.
A role model to achieve sustainable energy goals
The new energy community of Adeje Verde will be an important part of the transformation of the Canary Islands since the Canarian Government intends that all the islands work with 100% renewable energy by 2040, for which it is called to be a pilot of how the rest of the region can produce and use its own sustainable energy and become a pan-European model.
Luis Hernández, Director of Communities and Energy Networks at E.ON Innovation, points out: "We will make it possible for green energy to provide electricity to people: in Adeje we are creating the first community that corresponds to the new European guidelines, which will be applied throughout Europe in the coming years Spain is a pioneer with this new regulation and here we are creating a project and a model to follow for other pan-European approaches that allow citizens to contribute in a simple and active way to a faster, more sustainable and affordable energy transition. "
Towards a more sustainable municipality
The first photovoltaic system has been installed on the roof of the Adeje Municipal School of Music. More than 200 homes within a radius of 500 meters around will build the first circle of the energy community. In the summer of 2022 they will begin to collectively self-consume the energy from this photovoltaic plant. The school's photovoltaic plant will produce about 149,200 kilowatt-hours (kwh) per year, which will reduce CO2 emissions by 116 tons per year.
E.ON Innovation will work on expanding the availability of new PVs in Adeje so that more and more circles can connect to expand the energy community. This will allow people who don't have space for their own PVs to enjoy the benefits of solar power. The general objective is that all the citizens of Adeje have the opportunity to access local solar energy in their neighborhood to become the fastest growing energy community in Europe, reducing energy costs and the carbon emission of each home. In this way the transition to local green energy can be achieved and fight against climate change.
If you want to be one of the first to switch to locally produced solar energy, visit the website www.adejeverde.com and take advantage of your roof or connect to one of the green roofs of Adeje Verde, renting the solar panels you need for your daytime consumption. You change the color of energy.