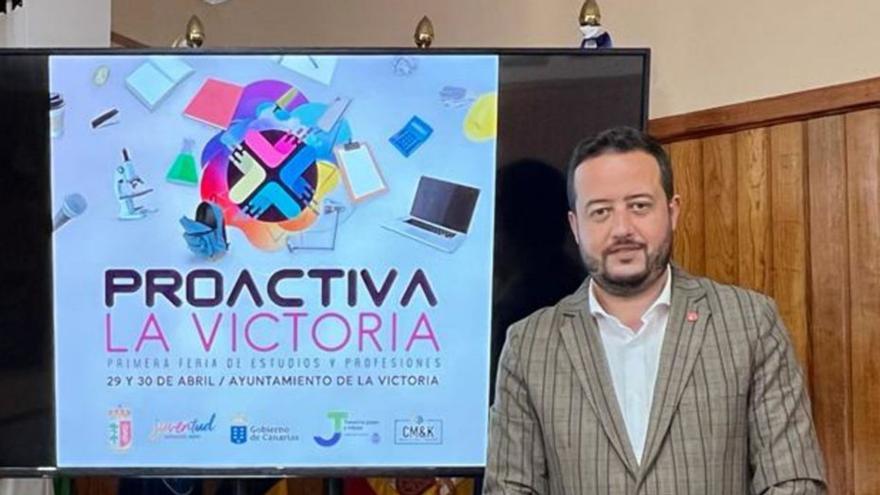 The first Fair of Studies and Professions of the region of Acentejo, organized by the Town hall of La Victoria, rUntil seven in the afternoon today, it brings together some thirty training centres, companies and social entities that will inform attendees about different study and employment options. Located in Plaza Rodríguez Lara, next to the Consistory, it has the collaboration of the General Directorate of Youth of the Government of the Canary Islands and the Education and Youth Area of ​​the Cabildo de Tenerife.
This exhibition, called Proactiva La Victoria, allows you to learn about different options for studies, employment, sustainable initiatives, entrepreneurship and volunteering through exhibitors, talks, workshops and round tables that aim to "inspire and guide young people in choosing their professional future ». The Mayor of Victori, Juan Antonio García Avbreu (PSOE), emphasizes that "with this fair we want to respond to a demand from the young Victorieros themselves, who were the ones who, during the surveys and interviews we carried out for the preparation of the Strategic Youth Plan , expressed the need for more advice and information to help them decide what they want to do". However, the fair is considered "aimed at people of any age who are interested in learning about the existing training offer."
Between the participating entities, the secondary education institutes Santa Úrsula, Tacoronte-Óscar Domínguez and La Orotava-Manuel González Pérez; the Integrated Vocational Training Center (CIFP) of La Laguna; the Official College of Biologists of the Canary Islands; the Official School of Languages; the University of La Laguna; the associations Alabente, Asmaer Canarias, Generación XXI, Creativa and Aperttura; the ONCE-Inserta Foundation; the School of Modern Music of the Canary Islands; the North, Friday and Fyrescan training centers; the Innovation Factory; the Institute of New Technologies-Creating School; the Jean Henry Dunant Professional Training and Sports Teaching Center; the Biosean organization; the School of Hostesses of the Canary Islands; Red Cross-Neighborhoods for Employment; Siprommi, or the Island Center for Youth Information.
Today's session opens at 10:00 a.m. with a talk on mental health in the family and youth environment by Beatriz Quintero, from AFES Salud Mental. Gole Trashlab will offer a talk on the work of a graffiti artist at 1:00 p.m. At 3:20 p.m., the Sustainable Cambium association will offer an informative session and, at 4:45 p.m., Luciano DJ, teacher, advisor and member of the first association of DJs and producers in Spain, will offer a talk about his professional experience in the music industry. The day will close with a round table of women entrepreneurs.