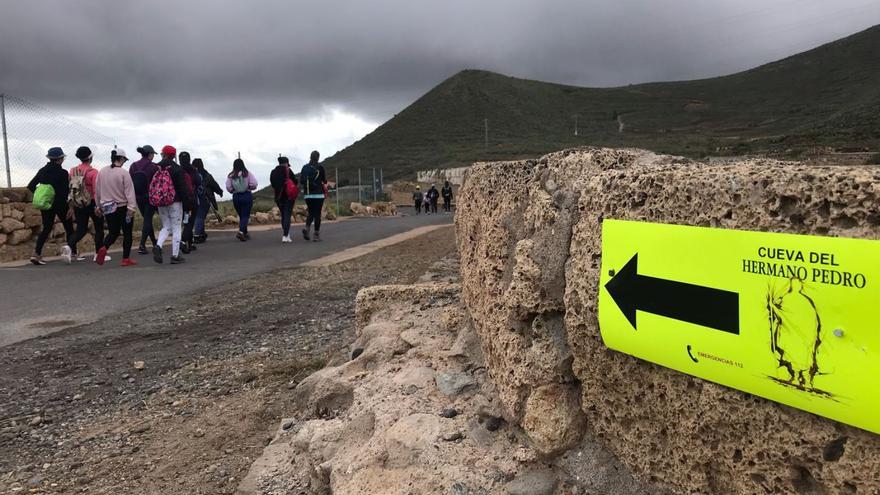 A symbol that combines history, spirituality, landscape and culture. It is the summary of what the Route of the Brother Pedro Way that yesterday recovered its fifteenth edition after two years suspended due to restrictions as a result of the pandemic of the Covid-19. More than a thousand people attended the call to travel the 19 kilometers between Vilaflor de Chasna and the cave of the first Canarian saint. Since 2019 the route has not been held. Not even the rain that fell in any section could prevent the return of the tradition of walking this path that is part of the collective memory of the people of the South Tenerife region.
At 1,500 meters above sea level, the route started just as dawn was breaking. At 6:30 am, a liturgy precedes the walk with the presence of the mayors of Granadilla de Abona, José Domingo Regalado, and Vilaflor de Chasna, Agustina Beltrán. Both municipalities are the organizers of the event, they have had the collaboration of groups such as AENA, Montaña Para Todos (MPT), the Nivariense Diocese, the volunteers of the religious space and several mountaineers.
After 7:20 am, the departure from Vilaflor has more than half a thousand participants. Hikers and pilgrims joined from Passion fruitCharco del Pino, San Isidro, El Médano, and San Miguel de Abona.
From the Plaza de Vilaflor, the participants left in the direction of the cave where they arrived around 1:00 p.m.
The route contemplated a device to ensure safety, with Civil Protection personnel from Granadilla and San Miguel; local police from Granadilla and Vilaflor; Red Cross and a security plan in the cave. The balance was very positive, since there were no serious incidents except for the usual mishaps of a walk of these characteristics.
Challenge for the Chasna region
Since 2005, when the study of the recovery and revaluation of the Camino del Hermano Pedro and its adjacent paths began, a challenge began for the Chasna region. It was none other than recovering a symbol of collective memory, maintained thanks to the residents of Granadilla and Vilaflor. The objective was to unite the different municipalities of the region –Fasnia, Arico, Granadilla, San Miguel and Vilaflor de Chasna– and their population through the revaluation of a unique route.
The cultural route begins at 1,500 meters above sea level and is 19 kilometers long. For approximately five hours, the walker can enjoy elements of the natural and cultural heritage, terraces, flowerbeds and fruit orchards, as well as a unique flora with summit scrub, pine forest, tabaibal-cardonal and coastal scrub. Without forgetting a fauna of great interest.
The Camino del Hermano Pedro is a transhumance route that extends between Vilaflor and Granadilla and is part of a set of traditional paths. Some already appear on historical maps from the 18th and 19th centuries. It is the route that the first Canarian saint traveled to move with his flock.