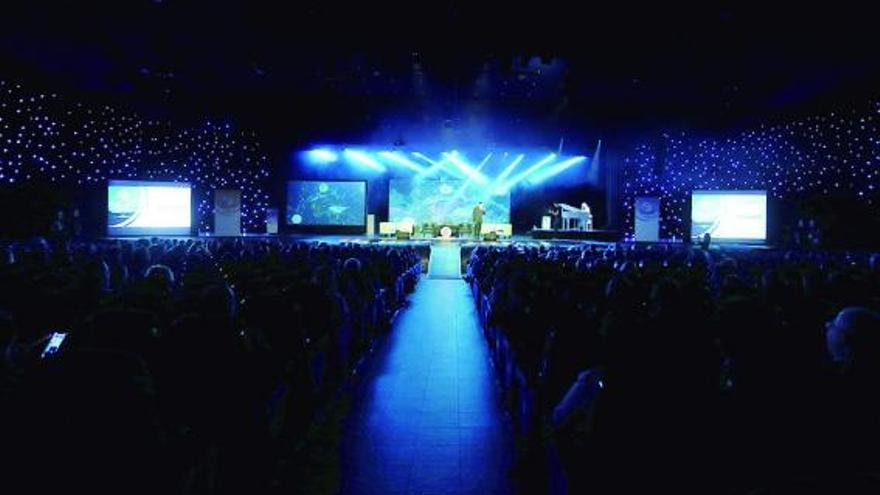 direct flights from Tenerife a New York They will start on June 9 with a promotional offer of 348 euros round trip. This was announced yesterday by Antonio del Toro, General Director of Sales in Spain for the US airline United Airlines, which will operate these connections. He advanced it in Futurism, the IX National Forum for Tourism Professionals and Experts in Spain, which took place on Thursday and yesterday, Friday, in the Pyramid of the municipality of Arona.
The "achievement" of Turismo de Tenerife, dependent on the Cabildo, of achieving this direct connection of the Island with the Big Apple was applauded by some of the Futurismo speakers. Six direct weekly flights – three outbound and three inbound – between Tenerife South airport and Newark Liberty International will connect the Island with New York for four months at the moment, although Antonio del Toro hopes that the connections can maintain for a long period of time.
«The inaugural direct Tenerife-New York flight will be a great day because a new milestone is about to begin as Tenerife opens a route with the United States, and this will also benefit the other Canary Islands. You have to do a good communication job because the average American still thinks of the Canary Islands as one of the great cities of Europe", stressed Antonio Del Toro during yesterday's Futurism session.
The island's director of Tourism, Laura Castro, pointed out that this route is "the result of the impulse that the Cabildo, under the presidency of Pedro Martín, is giving to the area" and that with the connections "a market opportunity is created that goes beyond beyond the sector and with which we want North Americans to discover everything that unites us, at a time when distances are getting shorter, and to be surprised by our gastronomy, our climate, our nature and culture». Likewise, the new connection offers new business possibilities in which work is being done in parallel.
It was the great announcement launched in a forum in which they spoke, above all, of the need for tourist destinations such as the Island to improve their offer and bet on "happiness" and "experiences", which is precisely the main objective of the latest Tenerife Tourism campaign. Hence, this edition had the motto In search of happiness. Laura Cantizano, executive and specialist in neurosales, team motivation and commercial talent management, offered the keys to "selling happiness by creating opportunities in difficult times". Thus, she revealed that "an emotion is information that the body and the spirit give us", since "all emotions are good, some make you reflect, others activate you". "We are physically and chemically emotional, so we have to train our linguistic and visual-spatial intelligence to be able to understand our clients," the speaker stressed.
In search of the "value customer"
Along these lines, Eva Ballarín, tourism innovation and strategy consultant, offered the keys to achieving a competitive tourist destination in the new reality: «We could no longer sell a destination with great attributes, but one that offered great experiences. We realized the economic and social weight we had. We are entering times where needs are changing, so we have to look for that valuable customer, from whom we are going to ask three things: that they respect our territory, that they be a good ambassador and the transgenerational need. And it is that Tenerife is a jewel, and happiness is that tourists are happy while we as hosts are too.
David Pérez, CEO of Tourism of Tenerife, explained in this line that "being a European tour operation destination is good, but we aspire to more", since, as Aída Cedrés, director of creation and revitalization of tourism products, recalled , "Tenerife has resources such as gastronomy and culture". "We have made some itineraries, such as Route 040, with resources linked to this route" that connects El Socorro beach, in the municipality of Los Realejos, with the peak of Teide, at 3,718 meters of altitude, the top of Spain.
The Spanish economist José María O'Kean opened the forum by positioning the viewers to face the post-pandemic economic situation. The expert predicted that "economic stability will arrive in an average period of one year." The globalized society flows through a series of spaces that are constantly changing, he added, to ensure that "people have realized that they do not want to have things, but to feel them." "They pay for the sensations they receive," emphasized José María O'Kean.
After the intervention of more than 60 speakers, including professionals and experts from the tourism sector, the ninth edition of this great business tourism forum Futurism came to an end yesterday, with a total of 8,000 registered from more than 30 countries, who joined via streaming to the 600 face-to-face attendees.