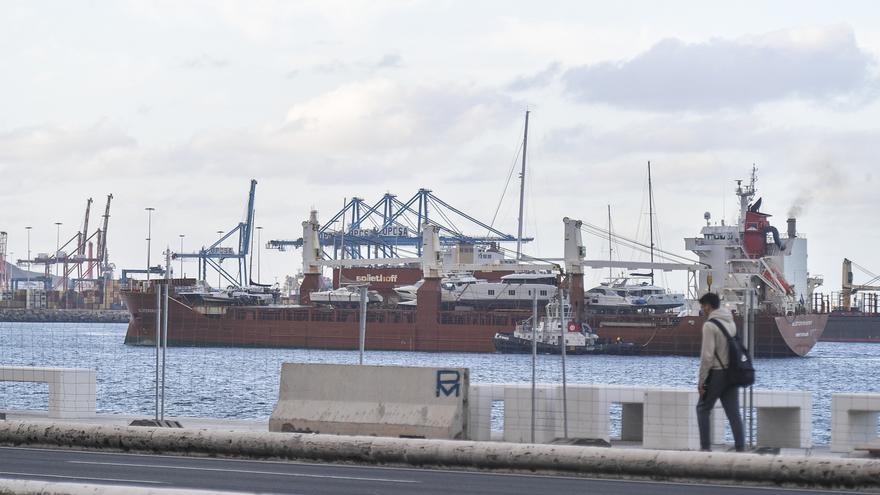 With the arrival of spring, yachts 'migrate' from their Caribbean winter quarters to the Mediterranean. When it comes to repositioning their ships, many shipowners choose to hire crews, although one of the most popular options is transportation in large freighters. The Dutch flag ship Slotergrachtwho just went through the ports of Las Palmas and Santa Cruz de Tenerife, is good proof of this. Sailboats, yachts and nautical vessels travel on its decks on a long journey that will end in Italy.
The Sloterdijk It is a Dutch-flagged freighter owned by the Spliethoff company that is usual in the Canary Islands for the transport of other goods such as paper reels. Consigned by Miller and Cía, her burden on this occasion was very different: arrived at the León y Castillo dock in the Port of Las Palmas on Thursday afternoon from Santa Cruz de Tenerife with 16 nautical vessels on board.
One less catamaran
Using the crane he has and assisted from the dock by another crane from the Boluda & Suárez Cargo stevedoring company, the Slotergracht deposited on the waters of the inner dock of the Port of Las Palmas a catamaran whose destination is separated from the rest of the group in Gran Canaria. The other fifteen boats, which also come from the western Atlantic coast and the Caribbean, will continue their route to the Moroccan port of Agadir, the next scheduled stop on their route, although the final destination is Genoa, strategically located in the Mediterranean central.
The transport of sailboats, multihulls and yachts on cargo ships is an activity that has increased in recent years due to the improvement in logistics conditions. this formula save costs for ship owners, since in this way they do not have to take care of the navigation and they save the costs of hiring a crew to do it on their behalf. The limitations to movement that came with the pandemic also gave the sector a boost.