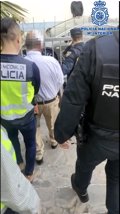 SANTA CRUZ DE TENERIFE, 19 Apr. (EUROPE PRESS) –
Agents of the National Police have arrested a 74-year-old man in La Laguna, with numerous police records, who had ordered his arrest and imprisonment by the Provincial Court of Las Palmas for a crime of sexual abuse.
In addition, he is charged with the alleged authorship of a crime of illegal detention.
The agents, through information derived from other investigations, learned that a man sentenced in Gran Canaria to a hefty prison sentence was hiding in a house in El Cardonal to evade justice.
The investigators, after thoroughly analyzing the case, found that the fugitive had been sentenced in 2013 by the Provincial Court of Las Palmas to 10 years in prison for sexual abuse and since then, to evade justice, he had adopted multiple measures security, changes of address and counter-surveillance.
The monitoring and surveillance carried out on the house and its surroundings showed that the fugitive did not leave the house and, if he had to do so for an unavoidable reason, he adopted extreme security measures.
ARRESTED ALONG WITH A WOMAN HE WAS RETAINING
Once judicially authorized, given the possibility that there were weapons in the house, the agents belonging to the Police Intervention Unit of the National Police proceeded to enter the house.
In one of the rooms they found the fugitive, who had to be restrained since he pounced on the national police officers to continue his flight.
Next to him was a woman whom, according to his own words, he had held against her will to prevent her from leaving the home, fearful as the arrested man was that the National Police might find him.
In the search carried out at the home, the agents seized a pistol, apparently simulated, and computer equipment, which were sent to the National Police laboratories for study.
The detainee, together with the report prepared for this purpose, was placed at the disposal of the competent judicial authority that determined his admission to prison.
The actions were carried out by national police officers from the North District Police Station of Santa Cruz de Tenerife.