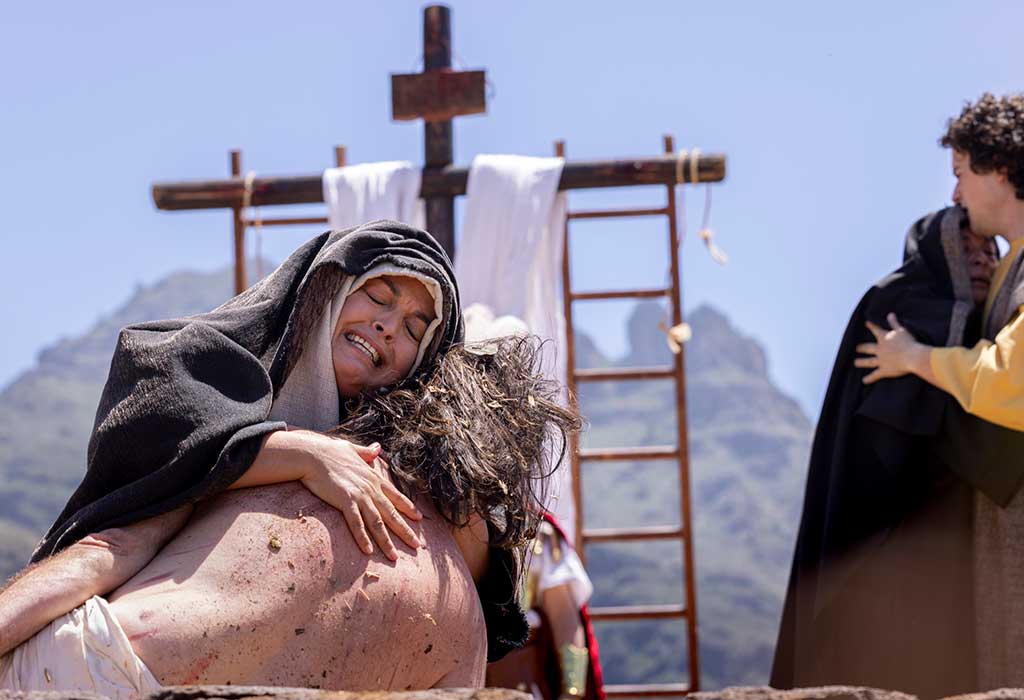 The twenty-fifth edition of La Pasión de Adeje, the most media event of Holy Week in the Southdid not disappoint expectations and the unprecedented commitment to a mixed format, half cinema and half live, due to the pandemic, was a success.
The hour-long film, in which selected neighbors participated through a casting, linked with the live performance in the Plaza de España of the culminating act of the work based on the final hours of Jesus Christ: the crucifixion. The City Council installed two giant screens so that the public could follow the film, enthusiastically received by those present.
It has been a fight against the clock, but the result has been worth it. The rehearsals for the recording of the film were carried out in the first fortnight of March and the shooting was concentrated in the following two weeks. The editing and post-production was completed in just 10 days thanks to the efforts of the director, Abraham Gómez Rosales, and the commitment of the production companies. The miracle of materializing the project in record time will allow future generations of adejeros and adejeras to have a historical heritage asset.
The locations for the filming have been carefully chosen to adapt them to the historical context of La Pasión, but also to enhance the environmental, historical and tourist values ​​of the southern municipality. Thus, the recordings have been made in the natural area of ​​Teresme, Boca del Paso, Camino de la Virgen, Playa de La Enramada, Diego Hernández, La Quinta or Tijoco La Hoya.
But the cameras were also installed in buildings as symbolic as the Casa Fuerte or El Convento and in emblematic hotels such as El Mirador and Bahía del Duque. The Noel farm, in Tijoco, was the place chosen to recreate the Mount of Olives.
In the representation of La Pasión, broadcast live by Canarian TelevisionMore than 300 people participated, including cast, direction, assistants, operating personnel, art, props, costumes and makeup. José Antonio López and Ana Niebla moved again in the Plaza de España with their interpretations of Jesus Christ and Mary, respectively. They also highlighted the roles of other historical figures such as Pilate (Bruno Negri), Claudia (Mónica Panizzi) or Caiaphas, who has been brought to life by the neighbor Roberto Melo.
Three years later, Adeje re-staged the evangelical texts that recount the hours that preceded the death of Jesus, including the shocking crucifixion in front of the imposing Barranco del Infierno.
It all started 27 years ago
In 1995, a group of neighbors from La Hoya Grande decided to put on a play about the final hours of Jesus Christ. The mayor, Rodríguez Fraga, supported the initiative and offered them the town center. José Álvaro González Tarife, a native of La Hoya Grande, and theater teacher Loli Maceira were key in the seed that gave rise to La Pasión.