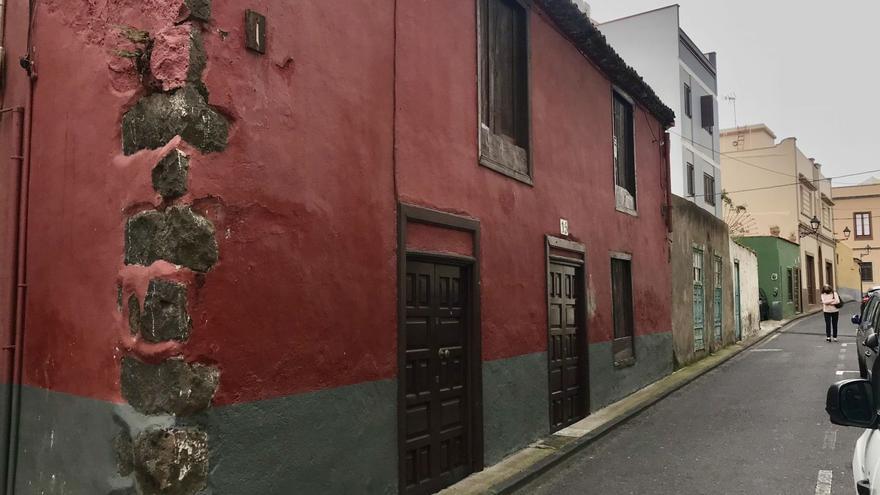 This emblematic pub and art room in La Orotava closed its doors on October 31, 2020, after more than 40 years of leisure and
culture at number 13 Rosales street.
the remembered Añep pub and art rooma, from La Orotava, closed its doors on October 31, 2020, after more than 40 years of leisure and culture at number 13 Calle Rosales. This establishment, which received the Villa's Silver Medal in 2005, was officially born in 1979 and the historian Nicolás González Lemus was the protagonist of those first steps in the form of a "literary café, piano bar and cultural and musical center". This author of more than thirty books and a hundred articles in specialized national and foreign magazines was one of the founders of Añepa and he remembers him for THE DAY in first person.
"A few months after the first democratic municipal electionsIn 1979, on a hot summer night, José Ramón Carrillo, Modesto García, Adolfo Travieso and I were sitting around a table in the kiosk, having a few beers and soft drinks. There came the conversation about how boring the town was at night. During the day it was very active, many people from the neighboring towns came to make purchases, but at nightfall it became a sad, silent, boring and dark population center. We discussed the need for a night club or music bar," recalls Lemus.
This doctor in Geography and History from the University of La Laguna and a graduate in Philosophy and Letters details that José Ramón Carrillo and he remembered the existence of «an empty house at number 19 of San Juan street, corner of Cantillo, as an ideal place to establish it. The two of us went to see it and talked to the owner, who was selling it, but very expensive. Then, through my good friends, the sisters Tilde and Lucy, they told me that his father was selling his two-story house on Los Rosales street. The price was reasonable (750,000 pesetas, just 4,500 euros today). I formed a partnership with Teresa Expósito and Adolfo Travieso. I talked to my brother Domingo so that he would buy it on the condition that we would liquidate it when the business started. Adolfo and Teresa argued and she left the entity. On August 7, 1979, I presented the Municipality of La Orotava the request to open the bar on Calle Los Rosales, number 13».
A very run down house
At that time, the house that housed the Añepa Pub was inhabited by "one of the brothers of Los Bebeaguas" and was very deteriorated. Lemus indicates that "a large number of friends helped us clean it. Arriving at the back, full of entullo, what was our surprise to discover that it was a patio. When the weeds began to be removed, it was found that there was a patio with two masonry benches, a descent and a stone staircase. They were respected. My friend Chacho Vital designed the porch and the access to the services, and my neighbor Juan García, a good carpenter, rebuilt the access stairs to the upper part of the house. Domingo Vega made the poster announcer. The name of the bar would be Añepa, in memory of the aboriginal baton which is preserved in the Town Hall, donated by Philip Barker Web during his stay on the island with Sabin Berthelot between 1827 and 1830».
A few months later, the Añepa opened as a literary café, piano bar, and cultural and musical center. «Brie, Roquefort and Camembert cheeses were the stars of the menu, along with other local cheeses. Good pop music played for the day. And on Sundays, from 12:00 to 16:00, he hung out with the Beatles», says Nicolás González Lemus.
Music was always key for Añepa: «Macarena González, co-owner of Real Musical, who liked me a lot because two or three times a month she moved me to Santa Cruz to buy vinyl at his store, he gave me a Petrof piano. Carlos Arocha played it at night. Sometimes Berto Rodríguez appeared to play music by Louis Armstrong. Monthly Añepa hosted cultural events: round tables on different topics of politics, sociology and literature. Senator Alfonso Soriano, Professor Juan Manuel Castañeda, anthropologist Alberto Galván, Dr. Isidro Fuentes or Juan del Castillo, among others, passed through there. Film projections were also held in the upper part of the house. A task for which Lemus went to the foreign consulates established on the island so that they could provide him with 16-millimeter films, "so I organized weeks of French, Swedish, English, Italian and German cinema, with the 16-millimeter Bolex projector, which had been bought with the profits of the Wizards Dance organized in the street.
The opening of the Añepa was a success from the beginning and it soon achieved great fame. And the problems began. Lemus recalls that «La Orotava was a conservative society, with a deep rural culture and even more macho than it is today. For this reason, a few months after it was inaugurated, hoaxes began to be created: that it was a center for drug consumption, that there was a bed for the practice of free sex and other negative and false barbarities. Many mothers forbade their daughters to attend that center of perversity.
A growing and undeserved bad reputation began to be created that worsened after the escape and disappearance of Adolfo and Magelia, a minor who frequented the pub. "The family reported her disappearance to the Civil Guard, which triggered the protocol of your search. After the scandal, that was the icing on the cake to finish off the distorted public opinion about this musical center", laments Lemus. That story reduced the clientele and the accounts stopped balancing. "We owed three million pesetas and the boxes were insufficient. The solution was to request a loan or sell it. We decided on the second option. La Añepa was put up for sale », he details.
The group The Sabandeños came to offer 2 million pesetas for the purchase of Bar Añepa, but finally Nicolás González Lemus turned to his brothers to acquire the business and exploit it through the Lemus Bookstore. At that stage, Antonio Sosa, a barman at the Tenerife Playa hotel, a specialist in cocktails, took the lead. The Añepa came back again and lived "a splendid time during which it continued for sale or lease." After several rental offers, in the end it was awarded to Francisco José González García, better known as Pepe "el del Añepa", who continued his operation as a music bar, cultural hall with exhibitions and other leisure events until October 31. of 2020, "the end of the only musical and cultural center that marked a historical milestone in La Orotava", according to the historian Nicolás González Lemus.