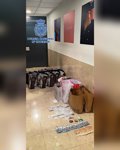 SANTA CRUZ DE TENERIFE, 7 Apr. (EUROPE PRESS) –
Agents of the National Police have arrested three young people between 19 and 21 years old, two of them with police records for similar events, as alleged perpetrators of the crimes of fraud and robbery with force in things.
One of the victims of the scams, a 90-year-old man, was allegedly charged improperly on the card worth more than 11,000 euros after his wallet was stolen.
The operation began when agents of the National Police were required by the security service of a shopping center in Santa Cruz de Tenerife because three young people aroused their suspicions.
The national police officers, once at the scene, observed three women they knew from previous interventions with a large number of bags and when they saw them, the young women tried to get rid of a purse, without success due to the rapid police action.
After identifying them and reviewing the effects they were carrying, they found that they had made many purchases of prestigious brand items, clothing, accessories and jewelry, charging them to previously stolen credit cards.
A more detailed investigation revealed that the card stolen from an elderly person had allegedly been charged more than 11,000 euros and another citizen's card, stolen from inside a vehicle, had apparently been charged another 150 euros.
The agents seized 670 euros in cash and dozens of products from prestigious brands that the young women, who were detained by the National Police, had allegedly bought fraudulently with the stolen credit cards.
The National Police, following the instructions issued by the judicial authority, will deliver the articles to the establishments so that, progressively, the money is returned to the swindled.
The National Police, once again, reminds you that it is essential not to carry security codes in your wallet, along with your credit cards, to avoid fraudulent transactions.
The actions were carried out by national police officers from the Provincial Police Station of the National Police of Santa Cruz de Tenerife.