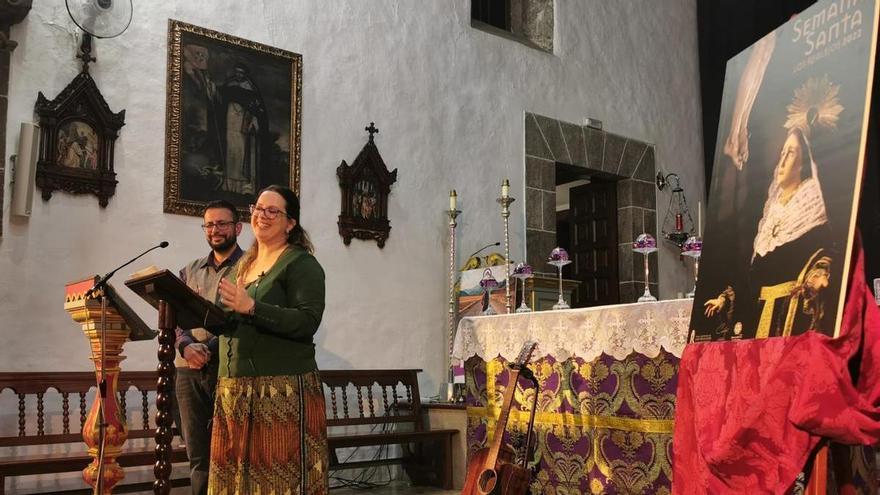 to Parish of the holy crosson The Realejoshosted on the afternoon-evening of this Wednesday, March 30, the reading in pairs of the proclamation that officially begins Royal Holy Week. It was in charge of the permanent deacon, teacher and singer-songwriter Alexander Abranteand his wife and worker of the social work of Caritas, Alexandra Hernandez. The parish priest of this temple also intervened in the act, Ruben Herreraand the first deputy mayor, Adolf Gonzalez.
The Royal Holy Weekby common agreement between its different parish communities and the town hallgives rotating prominence to one of the parishes each year, corresponding in this 2022 to that of the Holy Cross of the Holy Crosswelcoming this proclamation and starring with his image of Our Lady of Sorrows and the feet of Christ guarded in his temple the poster and cover of the program of events for this edition.
Adolf Gonzalez highlights "the opportunity that is offered to us in this 2022 to be able to recover the religious worship in the temples with fewer restrictions than the previous two years and to shine again in the streets of The Realejos the most deeply rooted manifestations of faith and the procession of the extensive religious heritage that they treasure".
From the Municipality of Los Realejosthrough its Departments of Culture and Historical Heritage, contributes once again to publishing posters and handouts, which are already distributed in the parishes, as well as to the general promotion of Royal Holy Week and in the retransmission of some of the most significant Eucharistic celebrations of each parish. The municipal services company Realserv and the Security and Emergencies area also lend their collaboration for religious acts.