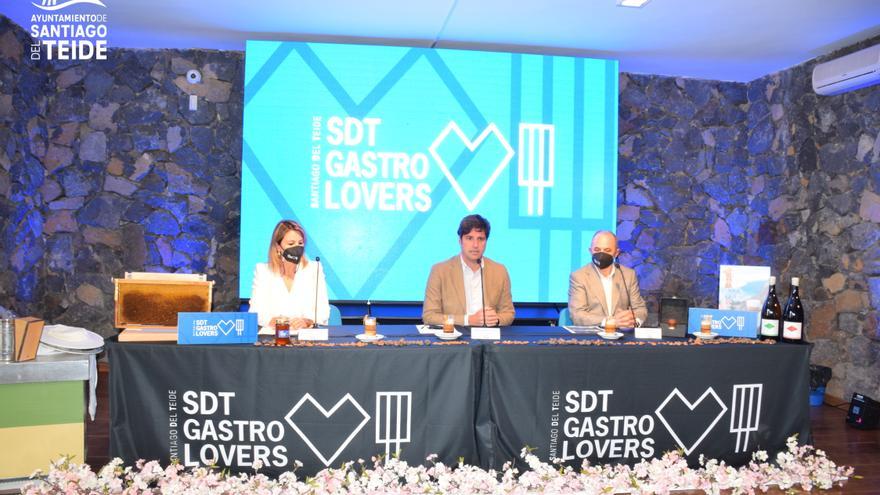 The Mayor of Santiago del Teide, Emilio Navarro, accompanied by the councilor for #LocalSDT Development, Krysten Martín, and Pablo Pastor, president of Acyre Canarias, presented the local gastronomic brand, SDT Gastro Lovers, with which it is intended to promote local gastronomy at the global congress of Madrid Fusión under the umbrella of Turismo de Tenerife.
For Emilio Navarro, "Madrid Fusión is a world showcase to publicize the gastronomy and km 0 products of Santiago del Teide through Tenerife Tourism, which, year after year, is positioning itself as a gastronomic reference municipality".
The bigeye bluefin tuna that is fished in the area will be the main protagonist of the product catalog that Santiago del Teide will present at Madrid Fusión on Tuesday, March 29, but almonds, honey, barraquito and local wines will not be lacking. To do this, 3 local chefs such as Lucas Maes, Francisco Rodríguez, Samuel Morales, the sommelier Mario Rodríguez and Macaronesia Coffe Shop Bakery will be inside the Tenerife Tourism stand presenting through show cooking, workshops and tasting different dishes featuring the products previously named.
The event will have a total of 6 interventions by our chefs, which will consist of the preparation of tapas, workshops and tastings where the local product will be shown. Chef Lucas Maes, from the Aqua restaurant, will prepare an inverted tuna roll, Canarian tomato chutney, with crusty bread that, combined with a semi-smoked cheese whey, achieve a hot-cold effect when you taste it.
Fran and Mario Rodríguez, chef and sommelier respectively at the Pancho restaurant, will bring a different preparation of the local tuna, in this case in a tartare. In addition, chef Fran Rodríguez will present a workshop where the protagonists are the almonds from Santiago del Teide. In turn, a wine workshop of the municipality will be offered, led by the sommelier Mario Rodríguez.
The chef Samuel Morales of the Pejeverde restaurant will give a presentation-tasting of the tuna that is fished in the same cliff of Los Gigantes while Macaronesia Coffee Shop Bakery will delight the attendees with the tasting of pastries with local almonds.
Finally, under the name of "A Sea of ​​Experiences" the three chefs will present the different tapas where the SDT Gastro Lovers brand is represented.